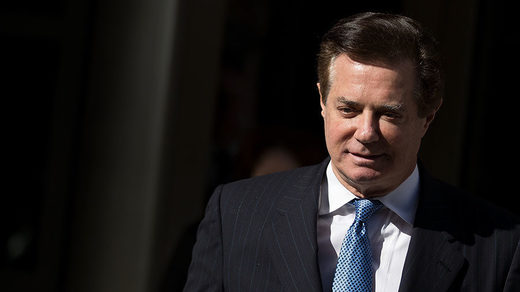 A federal judge has dismissed the civil case brought by Paul Manafort, in which he argued special counsel Robert Mueller exceeded the scope of his investigation.
U.S. District Judge Amy Berman Jackson, who is overseeing the case against the former Trump campaign chairman in Washington, D.C., dismissed the case in a 24-page court ruling filed Friday.
"A civil case is not the appropriate vehicle for taking issue with that a prosecutor has done and where he might be headed in the future,"
Jackson wrote.
"It is a sound and well-established principle that a court should not exercise its equitable powers to interfere with or enjoin an ongoing criminal investigation when the defendant will have the opportunity to challenge any defect in the prosecution in the trial court or on direct appeal," she explained. "Therefore, the Court finds that this civil complaint must be dismissed."
Manafort had argued in his civil suit - filed in January - that "the Acting Attorney General's order directing the Special Counsel to investigate certain matters exceeds the authority provided by the Department of Justice's Special Counsel regulations."
He also claimed the indictment against him in Washington "exceed[ed] the Special Counsel's authority under the Acting Attorney General's order."
The dismissal of the civil case has no impact on the criminal charges brought against him by Mueller in Washington, or in Alexandria, Va.
In February, the Justice Department filed a motion seeking to dismiss the civil lawsuit, saying the claims brought by Manafort's defense team "lack merit."
"The appointment of the Special Counsel was squarely within the Acting Attorney General's authority and consistent with the Department's Special Counsel regulations," the motion argued. "And the Special Counsel is properly operating within the scope of his authority, including with respect to Manafort's ongoing criminal prosecution."
Manafort has pleaded not guilty to the charges brought against him by Mueller in Washington - which include money laundering and failure to register as a foreign lobbyist - as well as in Virginia.
He was charged along with his business associate Rick Gates last fall, and Gates has subsequently pleaded guilty and is cooperating with Mueller's team.
Manafort v. DOJ
by
Washington Examiner
on Scribd