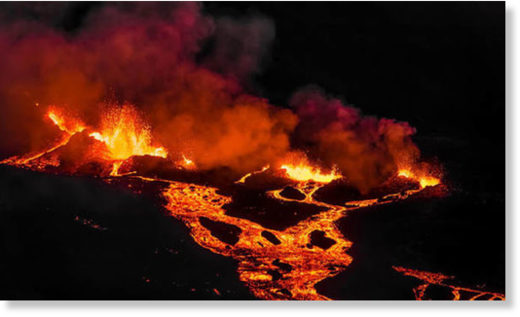 Piton de la Fournaise situated on the Indian Ocean island of Reunion started erupting overnight, according to the Piton de la Fournaise volcano observatory (OVPF).
The eruption began at 11.50pm local time on Friday, April 27, and continued into Saturday.
The eruptive fault opened on the southern flank of the volcano inside the Enclos - the central caldera of the volcano.
The area around the volcano is totally uninhabited and the eruptions pose little danger to the population of Reunion.
Since March this year, the number of volcanic-tectonic earthquakes has fluctuated, as well as their intensity.
It is the second time since the beginning of the year the volcano has erupted.
The previous eruption took place at the beginning of the month on April 3 and lasted only a few hours, with scientists recording a "seismic crisis"
The eruption triggered magma migration towards the surface of the volcano.
The Smithsonian Institution stated: "A seismic crisis began at 3am on 3 April, and along with deformation, indicted magma migration towards the surface.
"During an overflight, scientist observed a 1-km-long fissure, divided in seven segments, with two active vents producing lava fountains.
"At 4pm many landslides were recorded by the seismic network in the active area. The eruption ended At 4am on April 4, though a few landslides were recorded through 3.30pm."
The recent images taken of the volcano show red-hot magma bubbling up from the crater.
Several areas around the volcano are closed to the public and the eruption triggered a 2-2 alert - "eruption in progress" - of the ORSEC (Organisation de la Réponse de SÉcurité Civile) Volcano plan.
The Nez Coupé de Sainte-Rose trail is closed to pedestrians from the Piton Partage, due to a real danger of collapse.
Piton de la Fournaise is a typical basaltic shield volcano and is one of the world's most active and productive volcanoes.
It is in a phase of frequent but short-lived eruptions that start with lava fountains and produce large lava flows.
However, since the active areas of the volcano are not inhabited, its eruptions pose little danger and cause little damage.