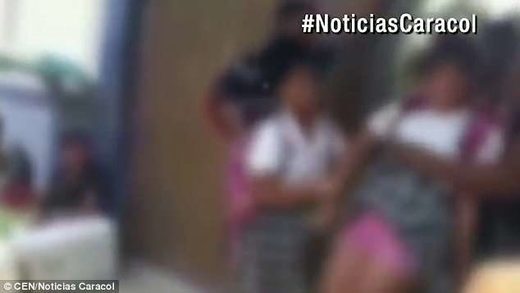 The parents of six children who suddenly collapsed after having fits at school are pleading for 'spiritual help' from the church after claiming they were 'possessed'.
In footage taken after the children fainted, the limp body of a girl in school uniform can be seen being carried by an adult as a crowd looks on.
Another girl can be seen jumping and screaming as she is held back by an adult.
Adalmis Movil, mother of one of the girls affected, said of her daughter:
'Suddenly, she felt something make a sound inside her body, she sat down and told her classmate "I feel sick".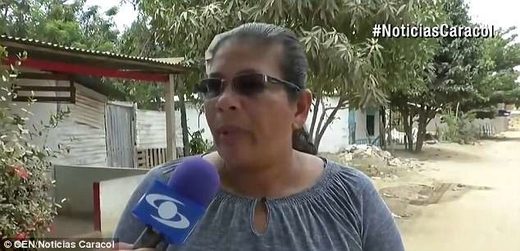 'Suddenly she felt a blow to her chest and she fell onto the floor.
'She was shouting and started swearing, saying: "I will kill them".'
The bizarre incident took place in a school in the small town of Palomino, in the Dibulla municipality of the Colombian department of La Guajira.
Reports suggest that the six students
fainted without warning
and the parents of the children do not know the cause.
Local media claim the sudden fainting of the children could be down to them being 'possessed by spirits'.
Reports also suggest the parents of the affected children are asking a local church for 'spiritual help', but it is unclear if this means they plan to conduct an exorcism.
It is also unclear if the children were given medical attention after fainting or if they have now returned to normal health.