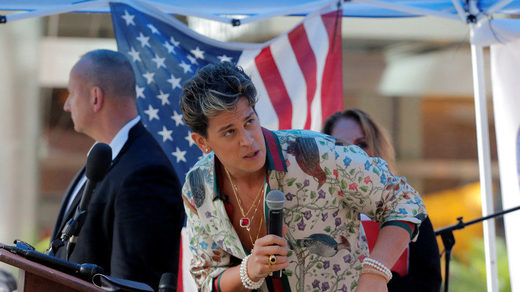 Conservative firebrand Milo Yiannopoulos was hounded out of a Manhattan pub on Sunday by a group of political activists and reporters. Video of the incident shows the left-leaning mob shouting: "Nazi scum get out" at Yiannopoulos.
According to reports, Yiannopoulos was patronizing an unnamed Manhattan pub that was also hosting a group of Democratic Socialists, who quickly spotted the controversial commentator and began jeering at him and his associate, Chadwick Moore.
Several journalists from outlets like the Nation and Gizmodo joined in on the "Nazi scum get out" chants, according to media reports and Milo's own retelling of the events.
"I was just shoved and screamed at by a big group in a pub in Manhattan and forced out of the place. One of them was a reporter for Gizmodo.
They were screaming at the top of their lungs about 'Nazis' and 'KKK,'" Yiannopoulos
wrote
on Facebook. He then explained that he decided to leave the venue because he didn't want to have to explain to his black husband that he was injured after being called a "white supremacist."
Yiannopoulos married his long-time African-American boyfriend last year in Hawaii.
"It's now impossible for me to safely go out for lunch in most major cities in America because I supported Trump at the last election and don't like feminism," he wrote.