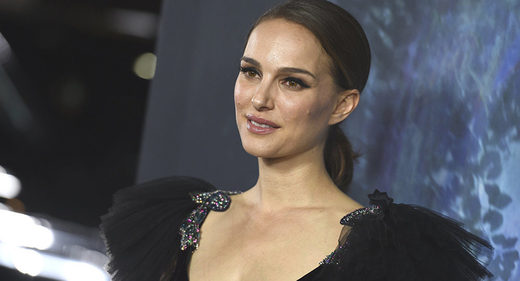 Israeli-American actress Natalie Portman's refusal to accept an award at a ceremony in Israel because of "extremely distressing" recent events is causing a huge headache for Israel advocates.
Yesterday Portman
issued a statement elaborating on her earlier
statement. She cited "atrocities" and her discomfort at attending a ceremony aalongside Prime Minister Benjamin Netanyahu. Though she also said she does not support BDS, boycott, divestment and sanctions.
I chose not to attend because I did not want to appear as endorsing Benjamin Netanyahu, who was to be giving a speech at the ceremony...I treasure my Israeli friends and family, Israeli food, books, art, cinema, and dance. Israel was created exactly 70 years ago as a haven for refugees from the Holocaust. But the mistreatment of those suffering from today's atrocities is simply not in line with my Jewish values. Because I care about Israel, I must stand up against violence, corruption, inequality, and abuse of power.
The chief response of Israel's defenders has been silence.
Even as Netanyahu's minister for strategic affairs issued a "Dear Natalie" letter, chiding her, "Sadly,
it seems you have been influenced by the campaign of media misinformation and lies concerning Gaza orchestrated by the Hamas terrorist group
," Prime Minister
Netanyahu himself studiously avoided the Portman topic
in his comments to his cabinet yesterday morning, focusing on the 70th anniversary of Israel's establishment. Though perhaps Netanyahu's jabs at Jews in the west were aimed at Portman. "[T]he Jewish People would have shriveled away in exile," Netanyahu said. And Israel's establishment "created a national center for our people in which there is no assimilation." The actress, by the way, is married to a non-Jew who is converting to Judaism.
In today's
New York Times
, Bret Stephens echoes Netanyahu's avoidance with a column about how Jews are now afraid to live in Europe. So in a column about Israel, Stephens does not mention Portman once.
Portman's defection hurts because she has been an outspoken advocate for Israel over the years.
In her early 20s, she was a research assistant on Alan Dershowitz's 2003 tract,
The Case for Israel
. DJ
Rothkopf (also a former Israel defender) sees her choice as symptomatic:
Natalie Portman makes the right decision...and sends yet another message that profound changes are afoot among communities Israel could once count upon for support.
No wonder Jennifer Rubin
is ignoring the story,
as she has ignored Israel's killings of more than 30 unarmed protesters. Jeffrey Goldberg
is ignoring the story
.
Bari Weiss of the
New York Times
only stuck her head up above the ground to
ask a pro-Israel tweeter who was drumming her to battle for a link on the story.
"is there a link? this is all i'm seeing of it." Yakov Hirsch's
brilliant comment on Weiss's flustering
:
One must have a heart of stone not to have sympathy for hasbara culture ideological Rottweilers over today's Natalie Portman news.
Aware of the damage, Avi Mayer, the spokesman for the
Jewish Agency, also wants to suspend judgment
:
Like many, I was disappointed to hear that the Genesis Prize ceremony has been canceled - it's always a good time! Like few, I will be reserving both judgment and comment until we hear from Natalie Portman why she pulled out. I would recommend that others do the same.
Not all the guard dogs are choking. Caroline Glick
writes:
Natalie Portman is vile. Shame on her.
Such commentary will only create more support for Natalie Portman.
Thanks to Allison Deger.