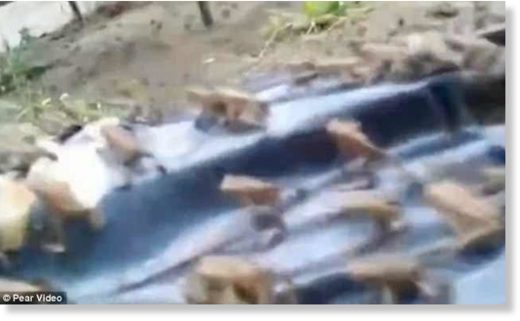 Like a scene from a horror film, a street in China has recently been taken over by thousands of toads.
Stomach-churning footage has emerged which shows thousands of amphibians hopping on the pavement after spring showers last week.
Local city's earthquake administration bureau has ruled out residents' concern that the unusual phenomenon was a possible warning of impending natural disasters.
The scene was captured in near Dengguan bridge in Zigong in Sichuan Province on April 13.
Li Yifan, chairman of Zigong Bird Watching Association, told the Cover News that the toads were Asiatic Toads, a type of amphibians that is commonly seen in China.
He explained that the appearance of the toads were related to the weather.
'The weather dropped after the shower on April 13. The toads will normally get to the shore when the humidity reaches certain level,' said Mr Li.
Footage posted on
Pear Video,
shows thousands of warty-skinned toads on the bricks, stairs and roads around Dengguan bridge.
One woman can be heard saying: 'Oh, there's a lot! Is there an earthquake coming?'