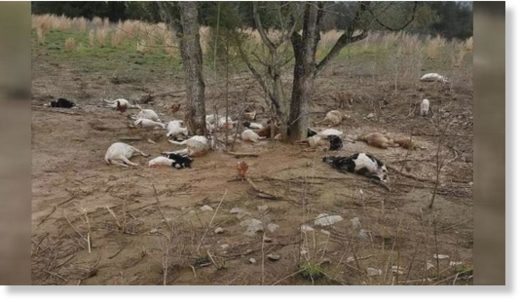 Crist Byler is a retired truck driver and now a sheep farmer in Logan County.
Byler spends his Sunday afternoon on the farm- an average day at work as he tends to his sheep.
"It's my livelihood, it's what I do," said Byler.
On Saturday morning, he pulled up to the farm to take care of his sheep to find a horrible scene - one he certainly didn't expect.
"This was all just covered in sheep right here. Dead," explained Byler as he shows the scene under the tree where the sheep once laid.
Byler is down 31 sheep after lightning struck a tree nearby Saturday morning and killed 15 of his ewes and 16 lamb.
"To come over here and find that, that's something else."
A tragic turn of events for this sheep farmer.
"The only thing you could do is clean the mess up. I mean, it's gruesome," he said.
The strike also damaged other parts of the property.
"It split the fence right here. You can see the ends right here where it burnt," said Byler.
The odds of getting struck by lightning in a year alone are one in about one million.
"I don't know. Maybe I should just go buy a lottery ticket," joked Byler.
Now, Byler tries to figure out what to do next.
"I guess I have to replace them, I want to replace them, one way or the other," he added.
Meanwhile, he worries about the other sheep.
"There was a couple lambs that I was kind of worried about. They were hit. They were wobbly. So I've been trying to keep an eye on them and they seem to have made it through."
The lightning strike not only taking out over two dozen sheep, but also a leaving behind its mark on the base of the tree. This is a daily reminder to Byler of mother nature's deadly strike on the early morning hours of April 14.
"You just have to continue on," he said, "It's just part of farming."