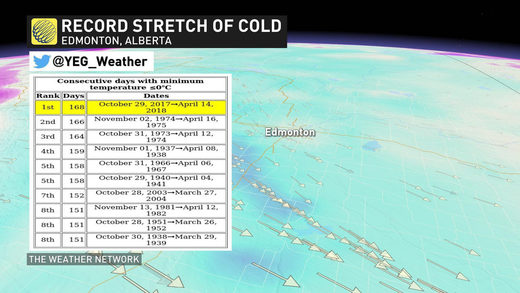 Some records weren't meant to be broken and this, is definitely one of them. The city of Edmonton, Alta., has become the (un)lucky winner of an historic stretch of cold weather.
We're talking nearly SIX months of overnight lows below freezing.
Although a prolonged period of frigid conditions and even some of the coldest temperature anomalies worldwide have dominated the Alberta pattern recently, the ridiculous stretch of cold weather in Edmonton is jaw dropping. Saturday, April 14 marks the 168TH CONSECUTIVE DAY of overnight lows below freezing as recorded at Edmonton-Blatchford Airport.
This puts the area in first place for the longest run of consecutive days with a minimum temperature below 0°C
, ahead of the 166 day stretch in 1975.
Edmonton is known as being one of the coldest cities in Canada and with a record like this, it's certainly living up to its reputation. The last time the city got to an overnight temperature of at least 0°C was back on October 29, 2017. That's almost six months ago.
"From that point onward, we never reached above the freezing mark again in the overnight," says Weather Network meteorologist Erin Wenckstern. "We got extremely close to it on December 15, but we never quite reached the freezing mark at that point."
Although parts of Alberta see a brief "warm up" through the weekend, temperatures will still run below seasonal and a colder pattern settles in again soon.
"Well below seasonal temperatures return early next week with a significant late winter-like system impacting Alberta," says Weather Network meteorologist Dr. Doug Gillham. "Edmonton will be impacted and likely the city of Calgary as well."