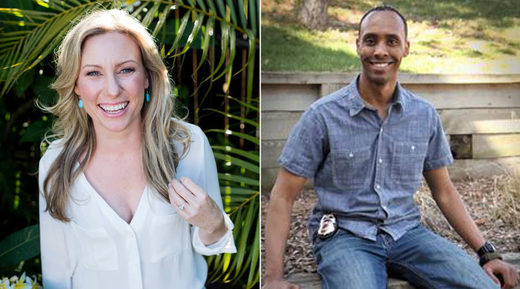 The Minnesota cop who
shot and killed an Australian bride-to-be
was charged with murder and manslaughter, according to a report Tuesday.
Officer Mohamed Noor, 31 - who allegedly killed 40-year-old Justine Damond of Minneapolis in July - was booked into Hennepin County jail at 11:16 a.m.,
according to the Minnesota Star Tribune
.
Noor was charged with third-degree murder and second-degree manslaughter. His bail was set at $500,000, the paper reported.
Noor and his partner, Matthew Harrity, had been called to Damond's home
after she called 911 to report a possible sexual assault happening behind her home.
Investigators say Noor, who was sitting in a police car,
shot the Sydney-born yoga instructor in the gut while she was approaching the driver's window of the vehicle.
Noor has said he was
startled by a loud sound
before opening fire. He claimed to have seen a young white male bicycling toward Damond's house immediately before the shooting.
But charges unsealed Tuesday said the cop failed to properly investigate before pulling the trigger.
"There is no evidence that ... Officer Noor encountered, appreciated, investigated or confirmed a threat that justified the decision to use deadly force," according to charges cited by the
Star Tribune
.
"Instead, Officer Noor recklessly and intentionally fired his handgun from the passenger seat, a location at which he would have been less able than Officer Harrity to see and hear events on the other side of the squad car."
Damond's fiancé, Don Damond, and her family called the charges "one step toward justice" in a joint statement.
"While we waited over eight months to come to this point, we are pleased with the way a grand jury and County Attorney Mike Freeman appear to have been diligent and thorough in investigating and ultimately determining that these charges are justified," the statement proclaims.
"We remain hopeful that a strong case will be presented by the prosecutor, backed by verified and detailed forensic evidence, and that this will lead to a conviction. No charges can bring our Justine back. However, justice demands accountability for those responsible for recklessly killing the fellow citizens they are sworn to protect, and today's actions reflect that."
Noor's attorney Thomas Plunkett declined to comment.