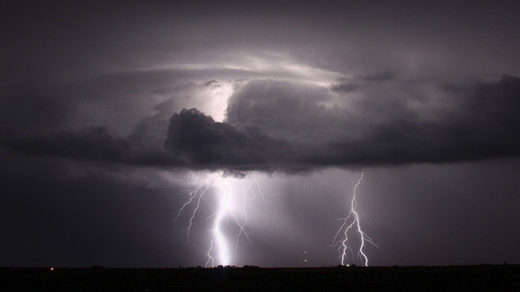 Alabama was subjected to hurricane-force winds and tornados as an extremely powerful weather system descended on the state. One resident managed to capture some spectacular atmospheric pyrotechnics through her plane window.
Martha Hart Mulligan was traveling home from North Carolina on Monday as the tempest hit. The pilot of American Airlines pilot flight 5566 reportedly took the long way around to avoid the storm system but it proved too big to escape as the footage shows. No-one on board was injured and the flight landed safely that evening.
"We were trying to fly south of the storm to avoid some turbulence. This is the impressive lightning we encountered, and we're happy to report that it did not 'encounter' us," Hart Mulligan wrote on Facebook.
"There has been significant damage tonight in parts of Alabama," Governor Kay Ivey said in a
statement
late Monday. "We are sending state resources to those affected areas, especially to Jacksonville and Calhoun County. We will continue to monitor and respond to needs in other areas as needed."
Strong storms battered the southeastern US on March 19 but Alabama experienced hurricanes, tornadoes and baseball-sized hailstones which caused widespread property damage, killing one person. Buildings were shredded, trees and powerlines felled and people were left trapped beneath the debris.
"This is the Long track #tornado that caused extensive damage in Jacksonville AL- fire reporting injuries- AL troopers say it's a war zone- JSU coliseum roof took major damage.
Additional law enforcement on the way," Lt. Andy Norris wrote of the devastation on Twitter.