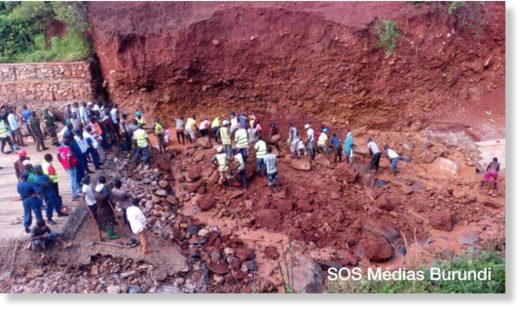 A landslide triggered by heavy rain left at least 6 people dead and 3 injured in Burundi.
The incident occurred early on 16 March near the Gasenyi river in the east of the capital, Bujumbura, where heavy rain caused a hillside to collapse.
Burundi police said the landslide was near National Highway 1 in the city. Police later confirmed that search teams had found 6 bodies and 3 injured. It is thought that the victims were construction workers who were working on engineering projects along the river.
Another disaster also struck in Bujumbura that morning, when a building collapsed in the Buterere neighbourhood of the city.
It is not clear why the building collapsed.
The Red Cross said that "volunteers of the Burundi Red Cross, in collaboration with the ICRC and civil protection, are looking for people estimated between 30 and 50 who still remain under the rubble. As of 16:00, Burundi Red Cross volunteers had evacuated 15 wounded and one dead."
By 17 March, Burundi police confirmed that search and rescue operations were complete and that 3 people died and 43 were injured.