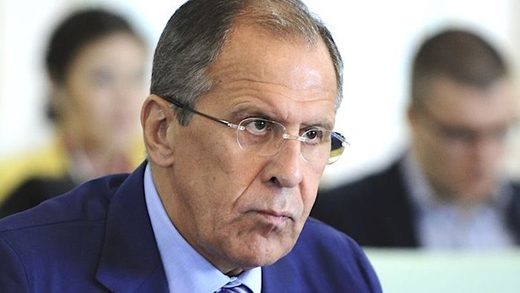 During an interview with the television and radio company of Kazakhstan's President, Russian
Foreign Minister Sergei Lavrov has commented on a wide range of issues: from the situation in Syria to Skripal's poisoning and beyond.
While stressing that the level of violence in Syria has significantly decreased, the foreign minister emphasized that "the process of deescalation in Eastern Ghouta could start only if the militants stopped shelling Damascus. This process has not been underway for a very long time, now there seems to be some hope that these armed formations will separate from Jabhat al-Nusra, " Lavrov said.
According to Lavrov, any plans on Syria's partitions should be abandoned.
"I do not think that we should even talk about a potential partition of Syria, but it is our duty to demand that these plans be immediately foiled, some bear it," the minister said in an interview with the television and radio company of the president of Kazakhstan.
The decrease of violence in the country was discussed during a ministerial meeting on Syria between the foreign ministers of Russia, Iran and Turkey as part of the Astana reconciliation process.
"Those armed groups that could be a part of the negotiating process are, unfortunately, operating under the umbrella of Jabhat Fatal al Sham. They created a joint command and in fact three groups: Faylaq al-Rahman, Jaysh al-Islam and Ahrar al-Sham - became allies of Jabhat Fatal al Sham, which is designated by the UN Security Council as a terror organization,"
Lavrov said, adding that Russian servicemen were urging the three groups to distance themselves from the terrorists.
He has also condemned illegitimate presence of foreign forces in Syria, saying that it "contradicted international law and the UN Charter."
"US, French, UK special forces are 'on the ground' in Syria. So it is not a 'proxy war' anymore, but direct engagement in the warfare,"
Lavrov added.
Furthermore, the foreign minister said that the
Americans are "planting local authorities" on the eastern shore of the Euphrates River.
"What is happening on the eastern shore of the Euphrates River, where Americans have indeed liberated vast territories from terrorists with the help of the Kurds, but plant local authorities, who are intentionally isolating themselves from Damascus, and declare that they will support these authorities without any contacts with the Syrian government," he said.
Earlier this week, the minister stated that the progress achieved at the Astana talks on Syria, including due to Russia's efforts, was not being welcomed by those striving to divide the country into small territories under their control.
"Those who, in violation of all norms of international law, in violation of Resolution 2254, obviously seek to divide Syria, to replace the regime so that this important Middle Eastern country is replaced by small principalities, controlled by external players, certainly do not welcome what we are doing in Astana, we are trying to achieve in Astana,"
Lavrov said in a welcoming speech before the talks with his Iranian and Turkish counterparts in Astana.
Since 2014, the US-led coalition has been conducting airstrikes against terrorists in Syria without any authorization from the Damascus government or a UN mandate.
UK, Russia Diplomatic Standoff Over Skripal's Poisoning
Commenting on the case of former Russian spy Sergei Skripal's poisoning, Lavrov said that "western propaganda is becoming more brazen and primitive."
"We are living in the world where one had better not read Western newspapers. All events are covered in an exceptionally simplistic, crudely propagandist way. The manipulation of public opinion is under way... On the one hand, the Western propaganda is getting more primitive, but it is also becoming more brazen, on the other," he said.
On March 4, Sergei Skripal and his daughter Yulia were found collapsed after being exposed to a chemical substance, later identified by UK police as the military-grade nerve agent Novichok, allegedly developed in Russia. British authorities have accused Moscow of "attempted murder," although declined Russia's request to provide samples of the substance in question.
As a response to the alleged attack,
UK Prime Minister Theresa May announced the largest expulsion of Russian diplomats
from the country since the Cold War.
Moscow, in turn, has declared 23 British diplomats personae non gratae,
with the Foreign Ministry
revoking its agreement on the UK General Consulate's operation in St. Petersburg.
Russia-US Relations
The interview has also touched upon relations between Russia and the United States, with Sergei Lavrov insisting that
Russia would not sign the Treaty on the Prohibition of Nuclear Weapons.
"We will not sign it because we believe that
prohibition of nuclear weapons in such a directive manner is impossible.
Five official nuclear powers as well as non-official ones will not do that," he said, adding that the US plans to expand its missile defense system and the fact that the Comprehensive Nuclear-Test-Ban Treaty had not entered into force yet, "mainly due to Washington's reluctance, influence strategic stability as much as nuclear weapons do."
As for the role of the United States in the UN, Lavrov said that
ultimatums during the Security Council's sessions were "unacceptable."
"When our American colleagues bring any resolution to the UNSC, and we suggest holding talks on the matter because there are alternative views, we are being accused of blocking the proceedings, and they decide to do it solo. Immediate ultimatums, sanctions, etc are absolutely unacceptable according to the UN Charter," he added.
The Russian Foreign Minister has also commented on the statement made by the US Envoy to the UN Nikki Haley on Washington's "readiness to strike Damascus," calling it "absolutely irresponsible." "I don't know who has empowered the US permanent representative to UN Nikki Haley to declare that the United States will be ready to bomb Damascus... [...] It's an absolutely irresponsible statement," he concluded.