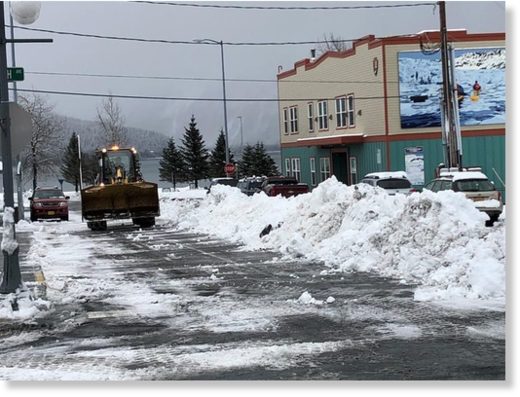 A late-season winter storm that brought more than two-feet of snow to parts of the eastern Kenai Peninsula has created hazardous driving conditions along the Seward Highway and dangerous road conditions on the eastern Sterling Highway.
State Department of Transportation and Public Facilities road crews have encountered the heaviest snowfall totals-- more than two-feet deep-- from Seward north through Moose Pass and up to Turnagain Pass.
Due to existing snow and the anticipation of additional snowfall this weekend, DOTPF cautions drivers to expect dangerous to hazardous road conditions through the weekend in the areas hit heaviest by the snow.
The Western Kenai Peninsula is currently under a Winter Storm Warning that was issued by the National Weather Service in Anchorage. This warning is scheduled to expire at 5 p.m. Friday. At this point, the heaviest snow has already fallen. However, another 4 to 10 inches of snow is possible along the Seward Highway from Girdwood to the city of Seward through Saturday afternoon.
This snow event is not out of the ordinary, according to Andy Dixon, senior service hydrologist for the National Weather Service in Anchorage.
"These type of snow events happen two to three times per year," he said.
What is out of the norm, according to Dixon, is the unusually high amount of snow that fell in the eastern Bristol Bay region. In King Salmon, Alaska, during the second week in March, there is 18.2 inches of snow on the ground
.
After Thursday's snowfall, the current snow depth is 32 inches.