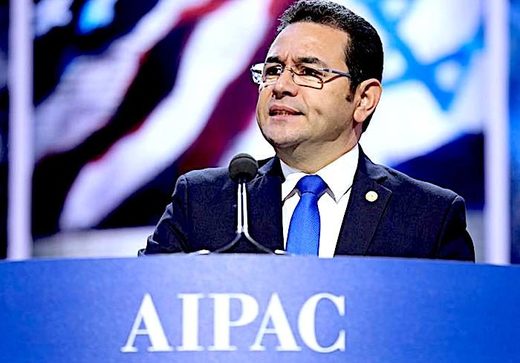 Israel helped the Guatemalan military juntas during the genocide against the Mayan people in the 1980s.
President Guatemala Jimmy Morales said Sunday his country will return their embassy to Jerusalem on May 16, in support of the United States decision to do the same,
a move that further reaffirms a decades-long controversial relationship between right-wing Guatemalan governments and successive Israeli governments.
"We've ordered that Guatemala returns and permanently moves its embassy to Jerusalem two days after the United States of America moves its embassy," said Morales during his speech at the American Israel Public Affairs Committee (AIPAC) annual meeting in Washington Sunday, to which he was invited after Guatemala's support for Israel.
Morales thanked U.S. President Donald Trump for "leading the way," and said "his brave decision" guided them to make "the right thing." The Guatemalan government backed the U.S. decision to recognize Jerusalem as Israel's capital shortly after it was announced in December 2017.
Guatemala and Honduras were the only Latin American countries in supporting U.S. decision to move their embassy from Tel Aviv, the Israeli city where all the embassies are currently located, to Jerusalem, where the Palestinian east side of the city is illegally occupied by the Israeli state.
In December 2017, Morales said that
Guatemala had been "historically pro-Israel" and that they have considered them as allies since the time of its creation. Therefore, moving the embassy is just a continuation of 70 years of a supportive relationship.
"Today I held a pleasant meeting with Israeli Prime Minister Benjamin, who thanked our decision of moving Guatemala's embassy to Jerusalem. The alliance between the people of Israel and Guatemala is stronger than even. Blessings," Morales said Sunday afternoon on his twitter account.
Taking a look at the history of the ties between the two countries, his comments do prove accurate. In the early 1980s the
Israeli military helped Guatemalan regimes that carried out a genocide against the Mayan population.
Between 1954 and 1996, the Guatemalan juntas killed more than 200,000 people, 83 percent of which were Indigenous Mayans,
with the assistance of the U.S. and Israel.
Even though thousands of Mayans were killed during the Guatemalan Civil War, the period known as the "Mayan Genocide" which lasted from 1981 to 1983 is when Israel-Guatemala military collaborations peaked.
In 1982, the General Efrain Rios Montt came to power after a military coup, becoming president between 1982 and 1983. During an interview with ABC News, Rios Montt said the coup had easily succeeded because
many of this [these] soldiers "were trained by Israelis."
The Israeli press also reported that about 300 military advisers were on the ground training Rios Montt's troops at that time.
Lieutenant Colonel Amatzia Shuali,
who was an Israeli adviser in Guatemala during Rios Montt military regime, had reportedly said
"I don't care what the Gentiles do with the arms. The main thing is that the Jews profit,"
as reported in the
Dangerous Liaison
book by Andrew and Leslie Cockburn.
Rios Montt is currently on trial after his original sentence on genocide and crimes against humanity was revoked due to mistakes in the judicial process in 2013.
Now, Morales claims that Guatemala and Israel have common interests, such as fighting terrorism and drug trafficking, border security and respect for human rights.
Before being the president of Guatemala, Jimmy Morales (born as "James") was known for his racist commentary. He used to be a comedy actor known for racist and snob acts such as "Black Pitaya," in which he painted his face black, and impersonating other characters depicting lower class people as ignorant and dumb.