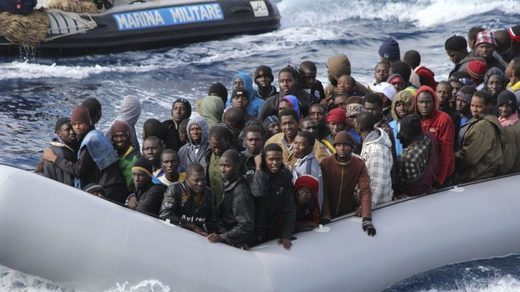 Consider the European refugee disaster of 2015-2016 and the havoc that continues to beset citizens there. Set aside for now discussion of the root cause and motivating force behind this mass-migration. The bottom line is this: Really crummy border security.
Yes, this is a generalization of a civilizational event, I get it.
So
it defies logic when politicians and others advocate for open borders, easy access, and lax immigration laws.
Today, US democrats continue their ludicrous claims against construction of
The Wall
- -a big reason Trump was elected. Clearly, the Dems are willing to risk the safety of fellow Americans for raw political power. Some things never change.
"We're working with European institutions ...it is a difficult discussion because of the politicization of refugees." Grandi
After what we witnessed across Europe in 2015, you might expect issues around borders and immigration to be a topic of earnest conversations. Aside from POTUS, there's not much political push to cut immigration, illegal or otherwise. In Canada, the Trudeau regime is set on codifying such public discussions as hate-speech.
At least Hungary's action on this issue is
clear
: Victor Orban seeks to protect his citizens and their culture.
Across Europe, especially in Eastern Europe, the populations are rightly
worried
. This worry has led to calls within the EU to step-up national defense capabilities. Indeed, the EU military was recently granted greater powers. Problem is,
the focus isn't on making EU states safer.
Brussels has been pressing ever harder for certain countries to accept
migrant quotas
.
Such quotas as the Commission are inclined to designate. Poland and Hungary are two vocal opponents of these decrees.
The European Commission, however, is far more interested in engaging with the United Nations, and to hell with the individual states' concerns about security and that thing globalists despise:
sovereignty.
And this is absolutely what is happening today across the European Union.
The focus is not about protecting the citizens, not as anyone with a nickel's worth of common-sense would handle it. Nor is it aimed at tightening immigration, firming up physical infrastructure, or hardening the collective perimeter. Not even a stronger southern border is the goal here; not when the United Nations has its hands on the levers as they do.
For the UN, as they review the
unregulated mass-migration,
they see the bigger problem was the inability of Europe to quickly process the thousands of refugees.
The UN is upset migrants where not absorbed quickly enough.
Since Merkel invited some two-million illiterates from Africa and the Middle-East, the bureaucrats of the United Nations and their Brussels brethren have been busy. You see, they are preparing Europe for larger migrant flows.
For Filippo Grandi, an Italian diplomat and the UN High Commissioner for Refugees (
UNHCR
), the troubling problem is that those cold-hearted Europeans have a border system "designed for much smaller flows" and so they "cracked under the pressure." Grandi spoke on the sidelines of the recent World Economic Forum in Davos, Switzerland.
Larger waves; regular mass arrivals, have always been part of the UN plan.
For elite globalist ideologues such as Grandi, a sovereign country struggling to cope with a massive influx of aggressive migrants is proof that more needs to be done. The United Nations' solution is to provide better support for all migrants: give them more free stuff and make sure they get citizenship.
He said that "border backlogs" caused much negativity.
This is the twisted world-view which globalists embody.
It will likely come as no surprise that the UNHCR will "look at different models and approaches to the refugee question." That's double-speak for making access to European welfare all the more easier.
In doing so, Grandi urges more
support for the refugees'
"countries of origin", aka the place that they just escaped out from because it's a s***hole! Countries "hosting large numbers of refugees" must be provided more aid from (guess who?) the prosperous West. Grandi's list of host countries includes Kenya, Pakistan and Ethiopia. Understand that the UN views these as
temporary
hosts.
These are some of the millions who will be pushed toward Europe, and other rich countries, in the coming months and years.
The UN does not regret the disorder it has wrought upon Europe.
The future, the Grandi's of the UN believe,

is theirs to imagine, to create, and to control.
A couple of months ago I questioned if the EU actually wanted secure borders. You can read that article
here
.
About Grandi: This is someone who, after travelling to Hungary's border region, said of the security fence there, "When I was standing at the border fence today, I felt the entire system is designed to keep people...
out of the country
."
Make no mistake, the United Nations is in league with the European Union and a brigade of Brussels lawyers is preparing to reinvent the entire immigration management system of Europe. Many Eurocrats are pushing for changes to the Dublin System and related legal implements. Grandi suggests that all that's needed is effort and "regional cooperation" which he terms as "politically difficult."
As a lever toward changing legislation the EU and UN will launch social justice campaigns to cast refugees and immigrants in positive terms. Protests will be assembled to pose in solidarity for more open borders.
Expect Soros' groups to organize disinformation campaigns across the continent starting when spring arrives.
You might be asking:
Why this is happening
?
There are millions of Arab and African economic migrants inside Europe. Those in Germany are Merkel's problem, and Macron too must manage the new arrivals to France. Given time and money, you might suggest, the dust will settle.
For the United Nations this is only a beginning. Going forward, efforts will turn to activism. They want those arrivals to make more noise, become more vocal, make greater demands, and influence policies. The goal now for the UNHCR is to force change upon the immigration systems across the West.
There really can be only one reason to change European Union infrastructure and immigration law. It isn't a guarded secret. The UN's Grandi said so just last month.
"We need to...make reception systems more effective for larger numbers than before."
When the winter snows clear the land and each day grows warmer, people will move north.
Rob McLean is a regular contributor to Halsey News commenting on Canadian and Global politics. He can be reached at rob@halseynews.com or on Twitter at @DailyRasp.