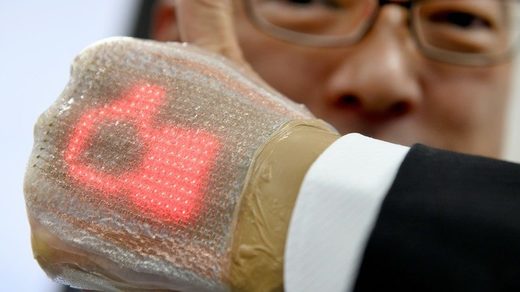 A team of Japanese scientists has developed an ultra-thin elastic LED display that can comfortably be worn over the skin. The device can be used to take body readings and receive simple messages.
The researchers from the University of Tokyo and Dai Nippon Printing (DNP) showcased their work at the annual meeting of the American Association for the Advancement of Science in Austin, Texas, on Saturday. The display consists of a one-millimeter-thick rubber sheet embedded with some 400 micro-LEDs that can be stretched and twisted without breaking the circuit.
The device can be worn on the skin for a week without causing irritation, during which time its wireless communication module can transmit medical data to doctors from their patients, which is particularly useful for elderly or disabled patients who have difficulties using existing devices.
"With this, even in home-care settings, you can achieve seamless sharing of medical data with your home doctors, who then would be able to communicate back to their patients," Professor Takao Someya, one of the project leaders,
told
the
Japan Times.
The data can be shared to a smartphone or the cloud, and the display can also send and receive messages, including emojis. These messages can remind patients to take their medicine, but can also simply be used for keeping in touch.
"Place displays on your skin, and you would feel as if it is part of your body. When you have messages sent to your hand, you would feel emotional closeness to the sender," said Someya.
"I think a grandfather who receives a message saying 'I love you' from his grandchild would feel the warmth, too."
As of now, the display can monitor body temperature, blood pressure and myoelectricity (the electric impulses of muscles) as well as record electrocardiograms.
DNP hopes to put its first model on the market within three years.