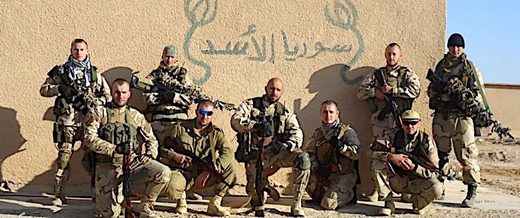 Russia denies reports of 'scores' or 'hundreds' of Russians killed in US air raid east of Euphrates
Maria Zakharova, the spokeswoman of Russia's Foreign Ministry, has
vigorously denied
widespread Western media reports of 'scores' or even 'hundreds' of deaths of Russian mercenaries supposedly killed in the recent US air strike in Syria against pro-Syrian government tribal fighters east of the Euphrates river.
These reports have appeared in
Bloomberg
,
The New York Times
, and
The Guardian
.
They have been followed up by a further report by Agence France-Presse and in
The Guardian
,
sourced to the pro-Jihadi British based Syrian Observatory for Human Rights,
that another fifteen Russian mercenaries were recently killed as a result of an explosion at their base in Syria's Deir Ezzor province.

Comment: SOHR is a shell propaganda outlet for Western consumption.


Zakharova's denial does not touch on the explosion at the base, but does respond in detail to the claims of 'scores' or even 'hundreds' of deaths of Russian mercenaries as a result of the earlier US air strike:
Reports about the death of dozens and even hundreds of Russian nationals are a classic example of disinformation. There were not 400, 200, 100 or even ten (who died), according to preliminary information, in a clash the cause of which is being investigated. Five people, who allegedly were Russian citizens, may have been killed. Several people suffered wounds but it requires verification, particularly as to whether all of them are Russian nationals.
Zakharova went on to say that
the Russians who were killed in the US air strike were private civilian contractors (ie. mercenaries)
who had no connection to the Russian military and whose movements in Syria were not coordinated with the Russian military and were not therefore fully known to the Russian authorities:
I would like to stress that they are not military servicemen. The Russian presidential administration and Defence Ministry have promptly clarified that there were no Russian military servicemen in the area targeted by the US-led coalition.....

There is a large number of people from all over the globe in conflict zones, including from Russia and CIS member states. They have various reasons to be there, including participating in military activities. They do not turn to state agencies when they head off to conflict zones, and use illegal routes. It is difficult to figure out who is doing what there but the Russian Foreign Ministry together with other state agencies has been looking into every such case because one of our goals is to protect Russian nationals abroad.
As to who was responsible for spreading the story of 'scores' or even 'hundreds' of Russian mercenaries killed in the US air strike,
Zakharova pointed the finger at 'Syrian militants' (ie. Al-Qaeda or ISIS) whilst also blaming the US authorities and the Western media for spreading the stories.
Syrian militants fighting against the government [had been the first to start] spreading this disinformation through their channels. God knows why they used a picture of the Martian landscape, adding a photo of destroyed military hardware, which could be Ukrainian (a probe is underway) that dates back to June 2014. We can understand the reason why international terrorists spread such rumours, as well as why US media outlets do that. This information campaign was stoked by Washington, which has been accusing Moscow of interfering in the US presidential election.
The report of the fifteen Russian mercenaries killed in the explosion in Deir Ezzor unquestionably originates from Jihadi sources, as shown by the fact that it is sourced to the pro Jihadi Syrian Observatory for Human Rights.
The fact that the reports both of the air strike and of the explosion at the base concern events in eastern Syria, an area where Al-Qaeda has no significant presence, suggests that the people who are behind these reports are from ISIS, which is known to operate a sophisticated propaganda and disinformation operation, and whose heartland area eastern Syria is.
As I have previously pointed out, a false report by the Syrian Observatory for Human Rights of the death of the ISIS leader Ibrahim Abu-Bakr Al-Baghdadi confirms that the Syrian Observatory for Human Rights has
contacts with ISIS
, though this does not seem to worry the Western media outlets which republish its reports
This tends to corroborate Zakharova's claim that what we are looking at is a Jihadi orchestrated disinformation campaign about Russian casualties in eastern Syria, with the likelihood being that is being carried out by ISIS.
Sadly there is no doubt that members of Russia's 'non-system' liberal opposition have also played a role in spreading and giving credence to this story.
Bloomberg's report
of the story unfortunately makes that all too clear.
The reports of 'scores' or even 'hundreds' of dead Russians in Syria - both as a result of the US air strike and because of the explosion in Deir Ezzor - in fact have all the obvious hallmarks of a disinformation operation.
Firstly, though there is no doubt that there are many Russian mercenaries in Syria, it is scarcely credible that 'scores' or even 'hundreds' of them would be gathered together in one place. Beyond that, for a single air strike to kill 'scores' or even 'hundreds' of people - especially soldiers dispersed over a wide area and taking cover - would be unusual.
Syrian reports in fact said that the total number of fighters - Syrian and Russian - killed by the US air strike was 25, and this still seems to be the most plausible and reliable figure.
South Front,
whose analysis and reporting of the Syrian conflict is both reliable and outstanding, identified the reports of 'scores' or even 'hundreds' of Russian mercenaries killed in the air strike as
an obvious case of a disinformation operation
and said so even before Zakharova made her denial:
On February 7 and on February 8, the English-speaking mainstream media, like Politico, Reuters, CNN, were spreading reports that over 100 pro-Assad fighters were killed in the US strikes. All the reports were based on anonymous sources and were mixed with statements from the Pentagon and the defense secretary to look more reliable. According to these reports, a group of 300-500 government fighters, backed up by battle tanks and artillery, were involved in the alleged attack on the SDF.

On February 8, some infamous figures and media outlets of the Russian media sphere started spreading reports that Russian PMCs had suffered mass casualties in the February 7 incident. The conflicting reports, also based on anonymous sources, included estimates such as "two truckloads of dead bodies", 10-20 killed, 100, 200, 300, 600.

On February 10, the Russian telegram channel WarGonzo posted 5 audio recordings of an alleged conversation among 3 PMCs. One of the voices provides the number of 177 killed. These audio recordings had also been received by a number of Russian journalists since February 7 and were most likely a forgery.

By February 14, reports had settled at a general number of 10-600 dead PMCs.

Meanwhile, the analysis of open info, including reports from relatives and friends of the PMCs involved in the operation, allowed all the concerned sides to find out that 5 Russians reportedly died in the aforementioned period. However, no details are available.

Independent journalists also noted that no aircraft, which could have been involved in the transfer of the killed and injured PMCs, had been spotted at Khmeimim Air Base since February 7. SouthFront correspondents and sources in Damascus and Deir Ezzor can also not confirm information regarding the hundreds of killed PMCs.

SouthFront's military experts aware of the situation say that the possible number of the casualties could be higher than 5, but not more than 15-20.

The entire story about mass casualties of Russian PMCs is based on unconfirmed and fake data, that includes a few real facts like the US strikes, some PMCs casualties and the participation of the ISIS Hunters in the incident. The rest is an orchestrated campaign in keeping with the best traditions of propaganda.

The goals of which would be that:

the US is able to fight back against the Russians in Syria;
Russia is not able to defend its interests;
the Kremlin is not concerned over killed Russian citizens or is not able to carry out any pay back.
To which I would only add that in my opinion
the primary motive
of the Western media and of the members of the Russian 'non-system' liberal opposition giving credence to this disinformation
is the third of the three cited by South Front:
"the Kremlin is not concerned over killed Russian citizens or is not able to carry out any pay back".
The first round of Russia's Presidential elections is due to take place on 18th March 2018. Spreading and giving credence to what looks to have been originally an ISIS disinformation campaign about 'scores' or even 'hundreds' of Russian mercenaries killed in eastern Syria looks like
an obvious attempt to create controversy within Russia
about Russia's intervention in Syria
on the eve of the election.
Just consider for example what Bloomberg reports
Vladimir Frolov -
a columnist of the staunchly pro-liberal opposition
Moscow Times
- as saying about the story:
This is a big scandal and a reason for an acute international crisis. But Russia will pretend nothing happened.
Clearly a number of Russian mercenaries - or possibly volunteers - got caught up in the US air strike which took place east of the Euphrates, and a number of them were killed.
The number may be higher than the five reported by Zakharova. She admitted that this number is based on early reports, and that the final total may be higher. However it beggars belief that it comes anywhere close to the fantastic numbers which have been reported in the Western media.
That ISIS - or whichever Jihadi group is responsible for this disinformation - has greatly exaggerated the number of Russians killed in the air strike is not surprising.
It is hardly unusual in war for one side to exaggerate the number of casualties suffered by the other. In the Syrian conflict that happens all the time.
All sides - including the US and Russian militaries - are guilty of it.
What is concerning is that this unverified and wildly implausible story of 'scores' or even 'hundreds' of Russians killed in Syria
has spread like wild fire through the Western media as if it were true.
One more example of how when it comes to news about Russia for the Western media anything goes.