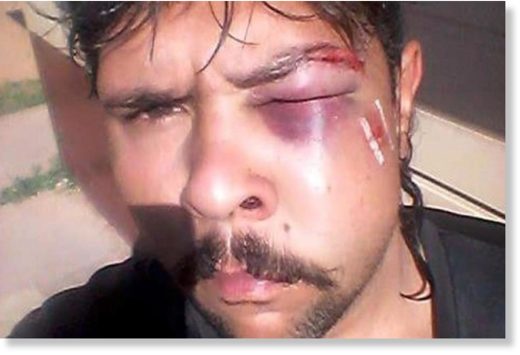 A hunter who had a kangaroo in his gun's crosshairs had his jaw broken
when the animal launched a pre-emptive strike.
Joshua Hayden, 19, was out with his brother looking for wild animals to shoot in Western Australia when the attack happened,
according to Australia's ABC News.
The pair initially spotted three kangaroos, but one disappeared and the teenager put his head out of the window of the moving car to target the other two.

The animal that had vanished then reappeared, charged at the car and attacked, reports said.
"It actually collided with the side of the car and smashed the front window," Mr Hayden told ABC. "Then it bounced back onto me and headbutted me straight in the jaw."
He said he believed he was unconscious for about 30 seconds after being hit.
"I woke up and my brother was trying to tell me what happened," he said. He assumed his brother had hit him.
After going to local hospitals at Northam and Kellerberrin - 125 miles east of Perth - he was referred to the Royal Perth Hospital.
Doctors there said he would have to wait 10 days to allow the swelling to go down before surgery. A photograph showed him with a black eye swollen shut.
The brothers said they often go hunting for kangaroos but have never before witnessed the animals fighting back.

Experts say kangaroos are normally peaceful animals that rarely attack. This might happen if they feel threatened, behaviourists say.
A year ago a woman former body-builder was attacked by a kangaroo that
"threw her around like a rag doll"
. She needed surgery for her injuries.
British animal-rights group Viva! has branded the hunting of kangaroo for meat in Australia "
the largest massacre of land-based wild animals on the planet today".