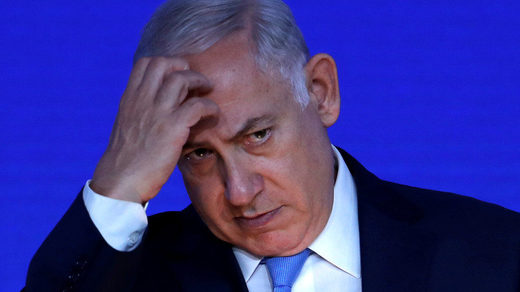 Israeli police have recommended that Prime Minister Benjamin Netanyahu be indicted over allegations of bribery, fraud and breach of trust.
Netanyahu, speaking in a
televised
statement following the announcement, said he will continue to lead Israel "responsibly and faithfully" despite the impending charges and insisted nothing will come of the "baseless" cases against him.
Police submitted their recommendations Tuesday evening following a 14-month long investigation into the "gifts affair" in which Netanyahu is alleged to have improperly accepted expensive gifts from businessmen.
The charges stem from two separate investigations, Case 1000 and Case 2000. The former involves allegations that Netanyahu, and his wife Sara, accepted gifts worth thousands of dollars from wealthy businessmen. The other, focuses on an alleged deal with
Yedioth
newspaper for more positive coverage in exchange for a crackdown on its rival outlet.
Netanyahu, who vehemently denies the allegations, has been questioned multiple times since the start of last year, according to Reuters. Police now believe they have found enough evidence for an indictment. Their recommendation will go to the country's attorney general for a final decision.
The action will come as no surprise to Netanyahu as police chiefs were
reportedly
in "unanimous agreement" last week over whether to endorse the charges. He took to
Facebook
Wednesday to acknowledge the likely recommendation, but dismissed the allegations against him. He also predicted that Attorney General Avichai Mandelblit would not press charges, telling his supporters, "don't be nervous."
Leaked reports of the investigation indicate that Netanyahu received gifts of cigars and champagne from the Israeli-born Hollywood producer Arnon Milchan to the amount of $100,000-150,000 over a decade,
reports
the
Times of Israel
.
Police have also recommended the indictment of both Milchan, who reportedly gave Netanyahu gifts for helping him obtain a US visa, and
Yediot
publisher Arnon Mozes,
according to
the
Jerusalem Post
citing Israel's Channel 2 News.
Netanyahu finished his live address by reaffirming his belief that the recommendations will "end with nothing because there is nothing."