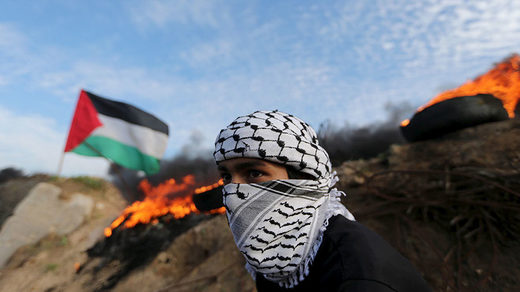 President Vladimir Putin told Palestinian leader Mahmoud Abbas he discussed the Arab-Israeli peace process during a telephone conversation with his US counterpart Donald Trump, Russian media reports.
Putin made the remarks while meeting with Abbas on Monday evening, TASS reports. "I just had a phone conversation with the President of the United States of America, [Donald] Trump," the Russian President said.
"Of course, we also talked about the Israeli-Palestinian settlement," he said, adding that Trump wished Abbas "all the best."
Starting bilateral talks with Abbas, Putin underlined "the depth and quality" of Russian-Palestinian ties, adding there is still much to be done. "The situation in the region is far from the one that we would like to see," he said, adding that Russia has always supported the Palestinian people.
He said he had raised the issue up with Israeli Prime Minister Benjamin Netanyahu during a recent visit.
Abbas said that due to the recent actions of the Americans, notably their recognition of Jerusalem as Israel's capital, Washington has been ruled out as a trustworthy mediator in the eyes of Palestinians. If the US wants to take part in the peace process, it should not come alone but as part of a group, he added.