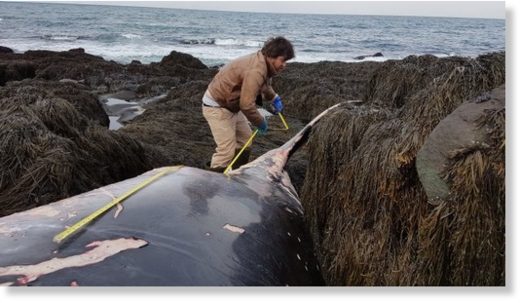 Eight months ago, Amy Tudor was guiding a whale-watching tour off Brier Island, N.S., when an unusually playful minke approached the boat.
On Friday, she found herself looking at the remains of an adult minke whale on the shore of nearby Tiverton, Long Island, N.S.
"As I was there looking at this whale, that's all I could play in my head: was this the whale that swam around the boat? Was it the one that spy-hopped around us? It was a very mixed emotion," Tudor told CBC News.
"I love these creatures. I talk to them when I'm on the boat. I feel a connection. It was so hard to see something that I love so much deceased, but at the same time it was such a rare opportunity to be hands-on with a creature like that and to help in the overall preservation and research of the species."
U.S. investigating rash of minke deaths
Over the last year or so, at least
18 endangered right whales have been found dead
in Maritime waters. Minke whales are not endangered,
but 28 have been found dead along the east coast in the last year
and the U.S. National Oceanic and Atmospheric Administration is investigating along the Florida to Maine coastline.
Tudor, who gives tours with Mariner Cruises Whale and Seabird Tours, heard about the dead whale from Tiverton resident Douglas Cann, who spotted it while out looking for old buoys. He couldn't tell if it was alive, so Tudor, her husband Jess and their four-year-old son went out to see.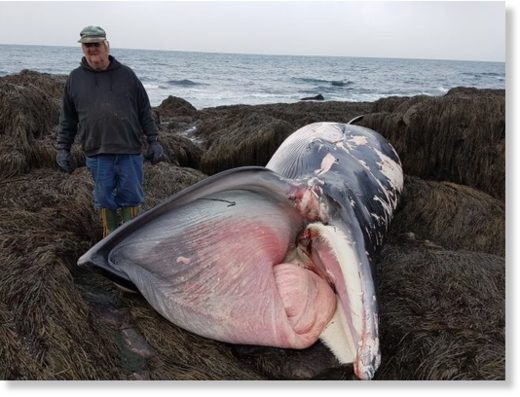 Cann guided them on the one-kilometre hike through the woods and a further half a kilometre over slippery seaweed rocks.
"This whale is located at a mid-tide mark, so there's a good chance that at the next tide, it could be washed away," Tudor said.
They quickly took measurements and samples from the animal in the hopes that researchers can learn more about what caused its death.
"I am not a scientist at all, so I can't make any scientific conclusions," she said. "I was measuring tail span, body length, pectoral fin length, photo documenting around the mouth, tail and dorsal, basically looking for what could be the cause of death."
Sending findings to MARS
No obvious cause presented itself. Based on its 7.6 metre length, Tudor thinks it's likely an adult. She notified the
Marine Animal Rescue Society
, a charitable organization dedicated to marine animal conservation in the Maritimes and will forward them her findings.
Unlike the humpback whale, the minke does not migrate to southern waters.
"The humpback is really what draws people to our area in the summertime for our whale-watching tours. It's about twice the size of a minke, but they kind of look a little similar."
Tudor looks for whales for a living, but this is only the second dead whale she's seen. The previous one was a humpback. Her husband found a pilot whale a few years ago, and his mother found a juvenile humpback in about 2009.