Three of the five large whale species known to frequent First State waters have been washing up on East Coast beaches at an alarming rate.
The National Oceanic and Atmospheric Administration on Wednesday announced minke whales - as well as humpback and endangered North Atlantic right whales - are experiencing what officials call "an unusual mortality event."
This is the first time the agency has seen three unusual mortality events of large whale species occur at the same time and in the same place, said Teri Rowles, coordinator of NOAA's Marine Mammal Health and Stranding Program.
"We're still going through the analysis to determine what might be the cause, and as we pull that information together across all the [species], then we'll have a better idea if there is a common causal or contributing agent that can be driving those [deaths]," Rowles said.
An unusual mortality event is declared when higher-than-normal numbers of marine mammals die for unknown reasons. When marine mammals die unexpectedly, it can be a signal of a problem with ocean health. The last unusual mortality event in the Delmarva area was the 2013-2015 bottlenose dolphin die-off in the Mid-Atlantic, which was linked to
cetacean morbillivirus
, an illness that causes pneumonia-like symptoms in marine mammals.
Many of the whales found dead in the past two years showed evidence of injuries from human interaction, including entanglements with fishing gear and blunt force trauma. Other animals were found to have infectious diseases while some could not be recovered and examined, NOAA officials said.
NOAA is still analyzing what diseases could have played a role in the deaths and whether fatalities across the three species share any common denominators.
Since January 2017, 29 minke whales have been found dead or stranded on land. NOAA officials said that's nearly three times the normal amount of whale deaths expected in a one-year period.
Experts estimate there are between 1,400 and 2,500 minke whales along the Atlantic Coast.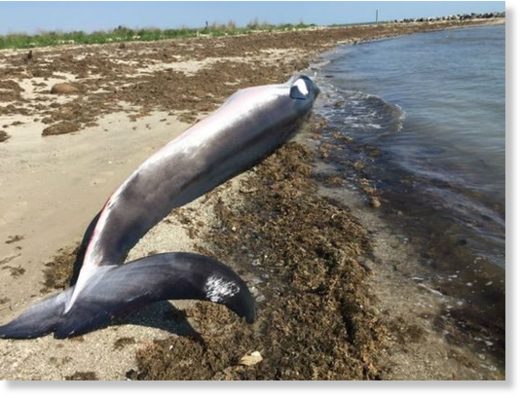 "It's difficult to say this early in these investigations, but often when you have human interactions as a contributing or causal factor for mortalities or serious injury, it takes the whales being in the right place - or the wrong place - with the human interaction," Rowles said.
Most of the minke whales were found along the New England coast, primarily near New York, with one found as far south as South Carolina.
In Delaware, five dead humpback whales were found over an 11-month period starting in June 2016,
including
one found floating at Port Mahon
. The most recent humpback whale washed ashore north of Rehoboth Beach in May, said Suzanne Thurman, executive director of
Lewes-based Marine Education, Research and Rehabilitation Institute,
Delaware's only marine mammal stranding response agency.
All of those whales were juveniles and at least 30 feet in length, Thurman said. Nearly 50 percent of the recent minke whales found dead or stranded also were juveniles, NOAA found.
Since January 2016,
a total of 62 humpback whales have been found dead
along the East Coast from Maine to Florida.
NOAA estimates there are fewer than 11,000 humpback whales in the North Atlantic Ocean. The species is not considered endangered.
The most recent North Atlantic right whale found dead was reported in Virginia on Jan. 28
,
marking the 18th dead whale recently found in Canada and United States waters since June.
All three unusual mortality events are still under investigation as scientists await necropsy results and study data collected from the animals and habitats, officials said. It is unclear if the three species are experiencing the same causes.
The events mark 64 unusual mortality events reported for marine mammals in the United States since 1991.
Thurman said most of the whales seen near the First State are humpback whale and fin whale species, followed by minke and North Atlantic right whales. Occasionally, the rare sei whale is spotted, she said.
"It's important to note that we now have three out of the five species of large whales that we might see here that are labeled under the unusual mortality event," Thurman said. "It's alarming. It's significant."
Source: The News Journal