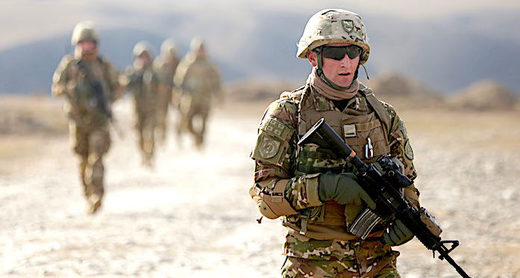 The Defense Department's top Asia official on Tuesday told Senate lawmakers that the war in Afghanistan will cost $45 billion this year.
Randall Schriver, the assistant secretary of Defense for Asian and Pacific security affairs, said
the figure includes roughly $13 billion for U.S. forces in the country, $5 billion for Afghan forces, $780 million for economic aid and the rest for logistical support.
Schriver was speaking before the Senate Foreign Relations Committee in its first hearing on the war since
President Trump
announced a new Afghanistan strategy six months ago. The Pentagon official could not give a cost estimate for the new strategy.
Lawmakers were critical of the 2018 costs and questioned whether the administration's plan will force the Taliban to the table for peace talks and end the war, now in its 17th year.
Trump himself seemed to undercut that basic tenet of his strategy
last month
when he quashed the possibility of negotiating with the terrorist group.
"So, there's no talking to the Taliban. We don't want to talk to the Taliban. We're going to finish what we have to finish," Trump said, days after the Taliban claimed responsibility for a car bombing that killed roughly 100 people in Kabul.

Comment: Trump's style is to throw stuff out there and verbally negate plans in motion. It keeps everyone guessing.


Trump in August announced he would send more U.S. troops to Afghanistan in a new strategy to train, assist and advise more Afghan fighters. The plan has no end date and has increased the number of forces in the country from 8,400 to 14,000.
Sen.
Rand Paul
(R-Ky.) complained that billions are "just being thrown down a hatch in Afghanistan," and the Afghans still "don't seem to be able to defend themselves."
"I think there's an argument to be made that our national security is actually made more perilous the more we spend and the longer we stay there. ... We're in an impossible situation," Paul said. "I just don't think there is a military solution."
Sen.
Jeff Merkley
(D-Ore.), meanwhile, questioned why the Taliban would want a political settlement as they "now control more territory than they did since 2001" when the United States invaded the country after the 9/11 terrorist attacks.
But the committee's chairman, Sen.
Bob Corker
(R-Tenn.), said the administration's strategy was "better" than the Obama administration's, since it's not limited by a timetable and pressures Pakistan to end support for Afghan terrorist groups.
Deputy Secretary of State John Sullivan, who spoke alongside Schriver, defended the strategy. "I think our policy acknowledges that there isn't a military solution or a complete solution," Sullivan said. "I understand it's America's longest war, but our security interests in Afghanistan, in the region are significant enough ... to back the Afghan government in their struggle against the Taliban."
Neither Sullivan nor Schriver could give an estimate as to how many Taliban militants are fighting in Afghanistan.
"I'm not sure I could give you a number that I have great confidence in," Schriver said.
NBC News last week reported that as many as 60,000 Taliban fighters are in Afghanistan, a number that Pentagon officials pushed back on.
"I'd say around 60 percent of the country is controlled by the government, a fraction of it is contested and about 10 or 15 percent is possibly Taliban controlled," Joint Staff Director Lt. Gen. Kenneth McKenzie
told reporters at the Pentagon
.
"I think we can chase numbers and say it's 9,000 or it's 15,000 all day but I don't think it's actually a terribly useful metric," McKenzie said.