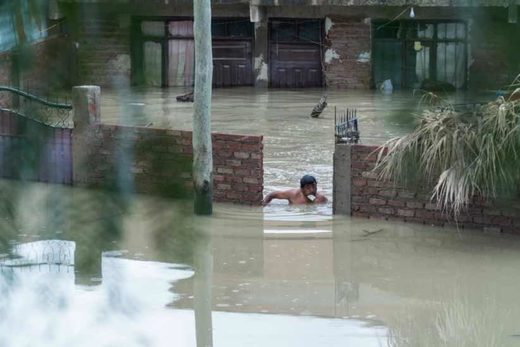 At least six people have died in heavy flooding across the Andean nation of Bolivia, where days of rain have left thousands of people homeless, fields underwater and houses destroyed.
One man died when he was dragged away by a swollen river and five people were killed in road accidents caused by the rain, said the mayor of Cotagaita in the southern Potosi department.
After days of heavy rain, the flooding was reported in areas around Zacuiba, Camiri and Villamontes in Gran Chaco province.
Bolivia's Deputy Minister of Civil Defence, Carlos Eduardo Brú, said that
at least 50,000 people in seven of the country's nine departments have been left homeless.
The hardest-hit areas are near the southern border with Paraguay and Argentina.
Rural and Land Development Minister Cesar Cacarico said the flooding has also damaged 33,000 fields.
During a visit to the town of Tupiza in Potosi department, President Evo Morales promised to help victims rebuild and to provide farmers with seeds.
Authorities have now activated the Emergency National Operations Committee (COEN) to coordinate efforts to provide flood victims with aid.
Meanwhile, more than 60 000 people have been affected by floods and landslides in northern Argentina over the past couple of days.
At least 10 000 people in Santa Victoria Este, Salta Province were evacuated and one person was killed as levels of Pilcomayo River reached record highs. The situation is further aggravated by heavy rainfall throughout the region.
The Government of Argentina said the operation was activated after the Pilcomayo River reached 6.78 m (22.24 feet) and projections of further flooding.
The worst affected is currently Santa Victoria Este in Salta Province, located near the border with Bolivia and Paraguay, where 10 000 people have been evacuated and hundreds of families are isolated and without communication after the flooding of Pilcomayo River.
Residents are receiving all our support and solidarity, the Secretary of Public Service of Tartagal, Miguel Parra, said, adding that all of their emergency teams are at their disposal.
The river is now close to 8 m (26.24 feet) and its flooding is described as the worst in a decade.
Civil Defence of Tartagal called all those who can help to donate footwear, blankets and clothing.
At least one person was killed when her home was swept away in a landslide in Salvador Mazza, Salta Province. Four children narrowly escaped death when 32-year-old Miguel Angel Gimenez jumped into the Colorado River to save the family being carried away by the torrent, local media reported.
After the floods in Salta, the largest peak of the river is expected to reach Formosa Province within 24 to 48 hours, the government said February 2. The region is under maximum alert and authorities have already sent human resources, machinery and logistics.
Argentina is fighting severe floods since January 20 when
intense rain resulted in an accumulated rainfall of 290 mm (11.4 inches) within 24 hours
in Presidencia Roque Sáenz Peña, causing flooding that isolated zones across the city as well as cutting the electricity supply and causing the collapse of the sewerage system. Some homes and public buildings were under 10 cm and 150 cm (0.3 - 5 feet) of water.
At the time, floods affected the neighbourhoods of Santa Mónica, Tiro Federal, Ginés Benítez, Monseñor de Carlo, Santa Elena, Hipólito Yrigoyen, Sáenz Peña, Milenium, San José, Piñeiro, Nala, Pablo VI and Quinta Ocho.
While the county's north is under massive rains, its eastern regions are battling wildfires that have already scorched 600 000 hectares (1.5 million acres) of land.