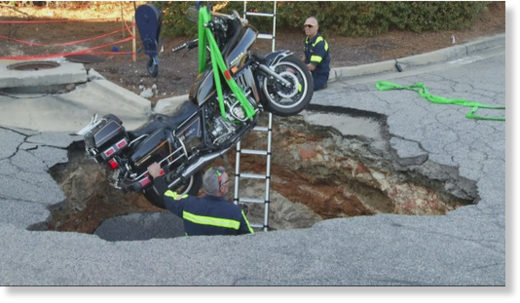 Augusta firefighters helped pull a man from a large sinkhole that opened in the parking lot at Augusta Exchange shopping center Wednesday, information officer Michael Meyers said.
"We did assist in a rescue when someone fell in," Meyers said. "He suffered from minor injuries."
The man, as well as his motorcycle, fell in the hole, located near the former H.H. Gregg store. His condition was not available late Wednesday.
Augusta Utilities Director Tom Wiedmeier said the hole was near a storm drain on the private parking lot.
Jerry Bouche, property manager for the shopping center, did not comment on the incident.
Augusta lacks the underground water flows known to cause the ground to collapse in areas such as central Florida. Recent city sinkholes, such as one that swallowed a city garbage truck on Central Avenue last May and a recent smaller cave-in on Walton Way, were attributed to leaking underground pipes.