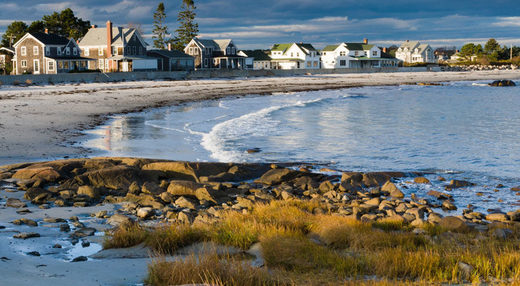 Residents in parts of Kennebunk, Kennebunkport and Arundel were left startled and baffled earlier this week when what was described as a loud boom was heard and felt across the area on two occasions, with no one able to pinpoint the cause.
Word of the mystery boom spread across Facebook Monday evening around 9 p.m. and again Wednesday around the same time.
People took to social media asking "Did anyone hear that? What was it?" Speculation ranged from thunder snow to a sonic boom, or a blown electrical transformer.
"I can't believe it was thunder. This was felt and heard from Cape Porpoise to Waterboro. Then two series of popping noises like semi-automatic gun fire," Kennebunk resident Wendy Lank said. "It was so loud, it really made me uneasy."
Kennebunk Police Lt. Eric O'Brien said the department had not received any calls or noise complaints, and couldn't offer an explanation.
Kennebunkport Police Chief Craig Sanford also said he had not heard from any residents about the noise on Monday night, however he dealt with a noise complaint Sunday.
Sanford said a resident was lighting off a cannon following the Patriots AFC Championship win Sunday, and was issued a verbal warning for violating the noise ordinance.
A representative of the U.S. Geological Survey said that there were three earthquakes recorded in Maine in the past week, but none in the Kennebunk or southern Maine area. He said the U.S. Geological Survey does get calls from people living along the east coast, and most of the time the sound they report is associated with military aircraft.
Paul Brean, airport director for the Pease Development Authority in Portsmouth, New Hampshire, said the tradeport had no aircraft flying in the last week that could produce a sonic boom.
A sonic boom is a thunder-like noise a person on the ground hears when an aircraft or other type of aerospace vehicle flies overhead faster than the speed of sound, according to the website NASA.gov.
Altitude determines the distance shock waves travel before reaching the ground, and this has a significant effect on intensity. As the shock cone gets wider, and it moves outward and downward, its strength is reduced. Generally, the higher the aircraft, the greater the distance the shock wave must travel, reducing the intensity of the sonic boom.
"We heard it too, my dog started barking and ran around the house," Patti Landry from Arundel said. "At first we thought it was our furnace. It was a strange quick loud rumble. It was just weird."
This isn't the first time that a mysterious sound has been heard in the Kennebunk area.
On Oct. 1, 2015 residents reported a similar startling sound at 10 a.m. Some said it sounded like a tree coming down in their yard, others wondered about blasting from area construction, or a clap of thunder. No cause was identified at that time.