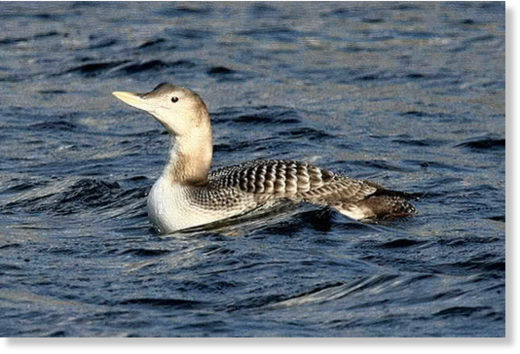 The yellow-billed loon (
Gavia adamsii
), an arctic bird species, was spotted on the country's Olt river, the Romanian Ornithological Society (SOR) announced. It is the first time the species is identified in Romania.
The bird was recognized by József Szabó, a founding member of SOR, who was in the area with a SOR team to undertake the winter count of the aquatic birds, which takes place at the beginning of the year. It was spotted close to the Ulmi locality, in southern Romania's Olt county.
The yellow-billed loon, also known as the white-billed diver, is a member of the loon or diver family.
It breeds in the Arctic and winters mainly at sea along the coasts of the northern Pacific Ocean and northwestern Norway.
It occasionally strays well south of its normal wintering range, and has been recorded as a vagrant in more than 22 countries. It is a specialist fish-eater, catching its prey underwater.
Some 1,000 such birds arrive in Europe yearly. It has been spotted also in Belgium, Austria, Belarus, Bulgaria, but never in Romania so far. The highest population, of some 20,000 birds, can be found in Canada.