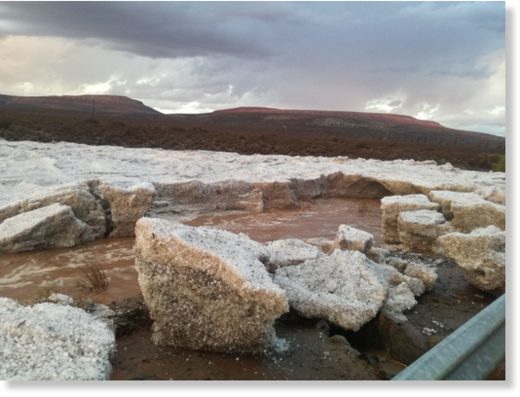 A rare phenomenon caused 'rivers of hail' through the town
As Cape Town gears up for day zero, many citizens are resigning themselves to dry dams and a complete shutdown of their taps. But, as we've seen in the Northern Cape, it may not be time to rule out a miracle just yet.
The NC territory is experiencing a drought just like its neighbour to the south. Resources have been stretched even across such a sparsely populated area.
As reported by Good Things Guy
, Sutherland was one town in the province that had been hit badly by the lesser-known water crisis.
Northern Cape receives 'miracle' rainstorm
So imagine their relief when, dams that were reportedly almost empty, were saved by the mother of all freak weather patterns.
Huge rain and hailstorms battered the town, and left a rather impressive legacy too.
According to GTG, some places received between 100 - 150cm of rain over the weekend. Enough to collectively fill some dams in the Northern Cape to the point of overflowing. Due to the chaotic fall of hail and rain, flash floods ended up creating icebergs and carrying the down stream.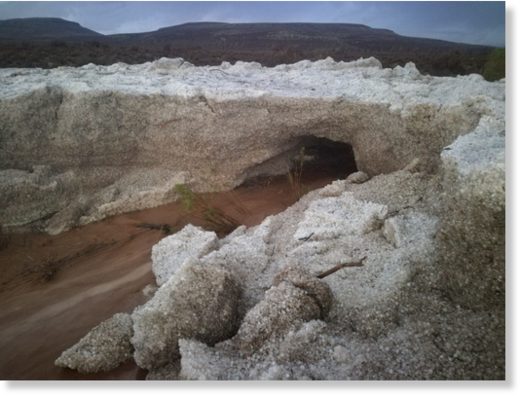 "River of hail" has to be seen to be believed
The footage was captured outside of Sutherland's observatory. Their YouTube channel - Starry Night Sutherland - described the scene as a 'river of hail' when they uploaded the video.
It is the type of miraculous, unforeseen storm that the Western Cape is crying out for. Oh, how a river of hail and icebergs would like inside
Theewaterskloof Dam
right about now.
Could this be the tip of the iceberg for farmers?
Alas, it is the Northern Cape who will reap the favour from the Gods. Rainfall between September to December has been almost non-existent for the last three years in NC. As a result, farmers have been pegged back in their agricultural work, and suffered serious financial setbacks.
But now, they may be allowed to take a giant stride forward. Miracles do happen, but putting an 80-day limit on when they can occur is perhaps pushing your luck just a little too far.