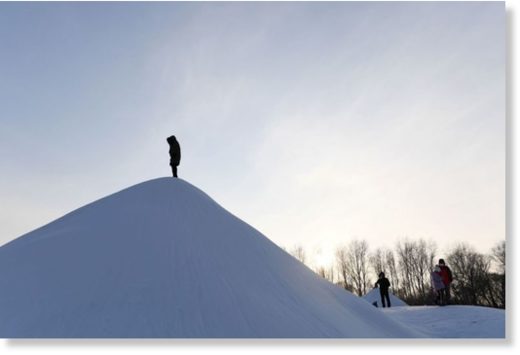 Temperatures hit a low this winter of -44.5 deg C in Mohe, China's northernmost county in Heilongjiang province, according to Mr Wu Shusen, a senior engineer at the county's observatory.
"The temperature over the following two days will be around -46 deg C and it is expected to drop to -47 deg C on Thursday," Mr Wu said.
"Then the temperature will increase slightly on Friday."
The region, regarded as the coldest in China, usually sees winters lasting eight months. Its record low is -52.3 deg C.
It's my first time in Beiji village in Mohe where I originally planned to experience the extreme cold," said Ms Xia Tian, 29, a tourist from Hangzhou, Zhejiang province. "However, I never imagined that it would be so cold before I got here on Saturday."
"Without the encouragement of my companions, I would certainly fail to finish the three-day trip," Ms Xia told
China Daily
before she left. "But it's really an unforgettable experience to enjoy the starry night in the beautiful village."
Despite the extreme cold, border police will not stop patrolling the village to guarantee the security of tourists and villagers.
"I have been here for six years and I have never felt such cold weather," said border patrol officer Wu Zhongqi. "It took us three hours to make a trip around the village that usually takes about two hours.
We had to get warm in the villager's houses every 15 minutes, even though we wrapped ourselves up in thick clothes."
At the same time, the National Meteorological Centre continued to issue a blue alert - the lowest level in a four-tier warning system - for a cold front in central and eastern regions from Monday to Friday.
The mix of snow and rainfall is forecast to hit the areas, including Hubei, Chongqing, Guizhou, Anhui, Zhejiang and Hunan, over the following three days, according to the centre.
"Related departments in the vast region should take precautions to reduce the impact of the freezing weather on traffic, agriculture and society," the Office of State Flood Control and Drought Relief Headquarters said on Monday (Jan 22).
On Sunday night and Monday morning, residents in Beijing welcomed the first snow of the winter - which came nearly two months later than usual - though it failed to cover most parts of the city. Temperatures will drop to as low as -12 deg C this week, according to the municipal observatory.
Sources: CHINA DAILY/ASIA NEWS NETWORK