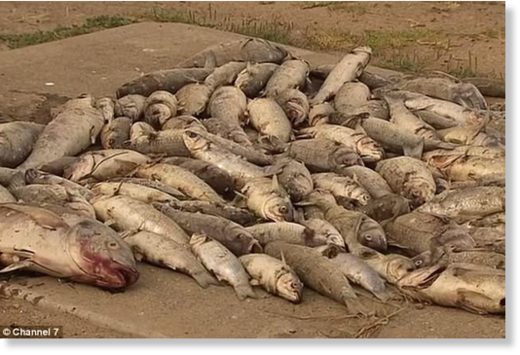 Hundreds of dead fish have mysteriously washed up on an Adelaide beach as authorities warn swimming is off limits.
Locals were shocked to find fish including mullet, trevally, bream and snapper washing up at West Lakes this week,
7 News reported.
One woman said she saw over 50 stranded on a concrete pillar.
Another said: 'We have a lot of people that come down here to do local fishing and they might be poisoning their children if they take the fish home.'
The Charles Sturt Council's response team have been tasked with the clean-up.
The Department of Primary Industries and Regions South Australia are testing the water, but believe the incident is due to natural circumstances.
PIRSA's Dr Shane Roberts said 'algal blooms' coupled with rising water temperatures may be to blame.
'If you've seen a fish kill the smart thing to do is don't go in the water, could be a very slight chance there's an algae bloom that might cause a rash,' Dr Roberts said.