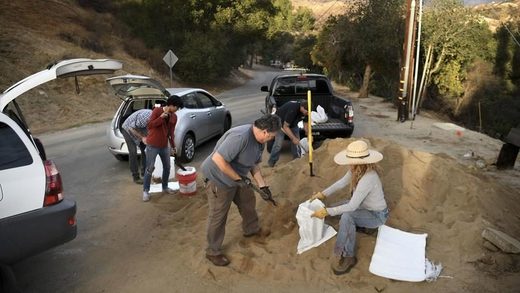 The first major rainstorm in nearly a year moved into Southern California on Monday, bringing light showers that will intensify in the afternoon.
The rain is of greatest concern in areas burned in the massive Thomas Fire, where officials said mudslides are possible.
Authorities have ordered evacuations of Santa Barbara County neighborhoods that sit below areas recently burned by wildfires.
Residents who live in the following areas were told to evacuate by noon Monday: north of Highway 192, east of Cold Springs Road, and west of Highway 150/the county line, as well as along Tecolote Canyon, Eagle Canyon, Dos Pueblos Canyon, Gato Canyon and in the Whittier fire burn areas near Goleta.
A voluntary evacuation warning was issued for all areas south of Highway 192 to the ocean and east of Hot Springs Road/Olive Mill Road to Highway 150/county line, Santa Barbara County officials said.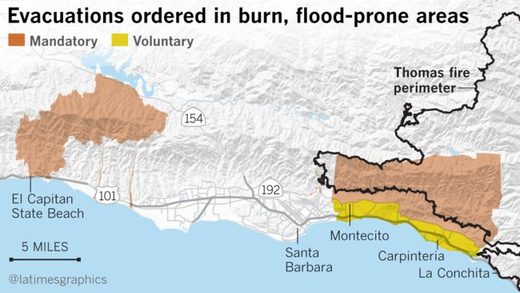 "People in these areas should stay alert to changing conditions and be prepared to leave immediately at your own discretion if the situation worsens," the county said in a statement.
Almost four inches of rain is expected in Santa Barbara and Ventura counties from Monday evening through Tuesday morning.
The best chance for thunderstorms throughout the region will fall on Tuesday.
When a fire sweeps through an area, it not only burns the vegetation but damages the soil itself. The intense heat makes the soil unable to absorb water the way it normally would.
Downtown L.A. is expected to get about an inch of rain over a 12-hour period beginning at midnight Monday.
To the north, a major storm is hitting Northern California. That is causing concerns about flooding in the wine country fire zone, where more than 10,000 homes were burned in October.
The National Weather Service issued a flash flood watch for the burned North Bay Area that begins Monday afternoon and lasts through Tuesday morning.