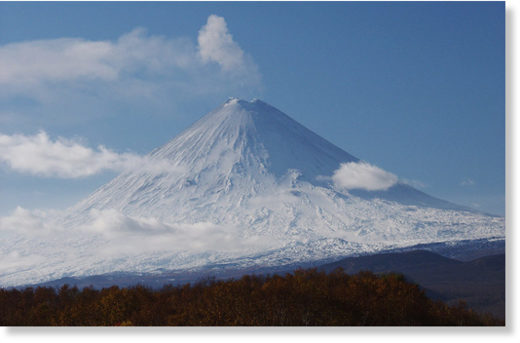 The Klyuchevskoy Volcano in the Kamchatka Region has spewed up ash as high as 7 km above sea level, the Kamchatka Volcanic Eruption Response Team (KVERT) at the Institute of Volcanology and Seismology of the Far Eastern Department of the Russian Academy of Sciences told TASS on Thursday.
"Today, the volcano emitted steam and gas with ash as high as 7 km above sea level.
The ash spread 68 km in an eastward direction," the response team specified, adding that an orange hazard code was declared for aircraft.
The Kamchatka Regional Directorate of the Russian Emergencies Ministry elaborated that there are no communities along the course, which the ash is being blown.
Klyuchevskoy is Eurasia's highest active volcano, reaching 4,750 meters high, and one of the most active on the peninsula. In 2016, up to 10 lava flows oozed down its slope simultaneously during an eruption. The nearest community - the village of Klyuchi in the Kamchatka Region- is located 30 km away from the volcano base. Ash falls are frequently observed there during eruptions.