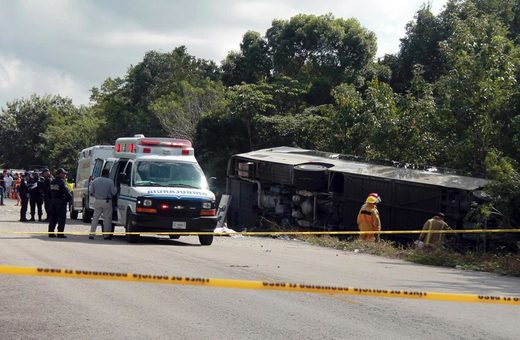 Dozens of passengers traveling on two American cruise ships were involved in a bloody bus crash in Mexico that left
at least 11 adults and one child dead
early Tuesday, authorities said.
Mexican officials did not immediately confirm the nationalities of the dead but said seven Americans and two Swedes were among the 18 people injured in the crash, which occurred shortly before 9 a.m. The bus was en route to the popular Charcchoben ruins in Quintana Roo state when it apparently swerved off the road and flipped over.
Miami-based Royal Caribbean Cruises confirmed that 27 passengers from two of its ships, Celebrity Equinox and Serenade of the Seas, were involved in the "heartbreaking" crash.
"Our hearts go out to all those involved," a spokeswoman for the cruise line told the Daily News. "We are doing all we can to care for our guests."
Both ships departed from Florida on Friday and Saturday for seven-night cruises that were supposed to include several stops in Honduras and Mexico.
A driver and a tour guide were also on board the bus at the time.
The cause of the accident remains under investigation.
The U.S. Embassy in Mexico would not confirm if Americans were among the dead.
A spokesman said the embassy is working with local authorities to learn more about the situation.
"We express our condolences to all those affected by this tragedy," the spokesman told The News.
Video from the scene showed the bus toppled over on its side in a bushy ditch off a narrow two-lane highway.
Bodies covered with blankets could be seen in the middle of the roadway.
Texas resident Chris Brawley was on another tour bus headed to the popular Mayan ruins and passed the crash site just minutes after the bus flipped over.
"The bus clearly lost control somehow as there were swerve marks all over the road surface," Brawley said.
Brawley was incredulous as to how the accident could have happened, noting that
the road was dry and that he hadn't seen any sign of any other vehicles being involved.