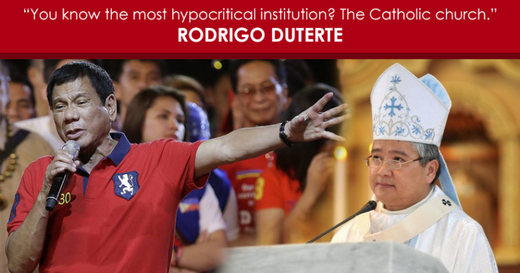 Philippines President Rodrigo Duterte has apparently switched his position on the issue of homosexual marriage, in a move which is a clear challenge to the power of the Catholic Church, whose leaders have opposed Duterte from the moment he took office.
Duterte has been known to have very poor relations with the Catholic Church as clerics have spoken out in opposition to Duterte's war on drugs and related violent drug criminals.
From the point of view of a secular leader, the drug war has been instrumental in helping to reduce crime, cutting off an important funding source for terrorists like the ISIS affiliated Maute group, as well as helping to make Philippines a safer place for international investors, including those from China and Russia.
A recent report from the US media outlet
Forbes
, whose editorial line has often been critical of Duterte, could not help but praise economic successes achieved in Philippines due to Duterte's reforms.
The
Forbes
article
stated
:
"The Philippines economy grew at an annual 6.9% in the September quarter of 2017, the strongest growth since the third quarter 2016. That's slightly above China's third quarter annual growth, which grew 6.8% in the third quarter of 2017, that country's weakest pace of expansion since the fourth quarter of 2016.

For 2017, the Philippines economy is expected to advance between 6.5 to 7.5%, and occupy the position of the world's 10th fastest growing economy, according to the World Bank.

GDP Annual Growth Rate in Philippines averaged 3.72 percent from 1982 until 2017, reaching an all-time high of 12.40% in the fourth quarter of 1988 and a record low of -11.10 percent in the first quarter of 1985, according to Tradingeconomics.com.

While growing faster, the Philippines economy has also been getting better. The trade deficit narrowed to USD 1.91 billion in September of 2017 from USD 2.02 billion in the same month a year earlier. Non-performing loans dropped down to 1.8%, as business access to banklending improved. And the debt-to-GDP ratio edged lower, while that ratio, for other Asian countries including China, soared.

The Philippines' economy has been helped by a stable macroeconomic environment, tax reforms, market liberalization, brisk infrastructure spending, and a revival in the global economy.

Equity markets have yet to take notice. The iShares MSCI Philippines Index rose 0.44% well below that of China and Vietnam".
As part of creating a wider political, social and economic revolution in Philippines, many of the old guard have been at odds with Duterte and this includes many prominent figures in the Catholic Church in Philippines.
While Duterte's revolution has not been one that has involved Constitutional reforms, as many still hope for,
Duterte's accomplishments remain seismic in terms of turning around the geo-political fortunes of the country and creating an atmosphere that will create increased prosperity for generations to come, as Duterte has embraced the prospect of forming an integral part of China's One Belt-One Road trade and commerce superhighway.
In spite of his sustained popularity, the Catholic Church has been a prominent critic and Duterte has not hidden his anger. He has furthermore, blown the whistle on corruption within the religious body.
In January of this year
Duterte said
about the Catholic Church,
"I challenge you now. I challenge the Catholic Church. You are full of shit. You all smell bad, corruption and all".
The President also stated,
"You criticise the police, you criticise me. For what? You have the money. You are all crazy ... when we were making confessions to you, we were being molested. They are touching us. What is your moral ascendancy, religion? What is the meaning of it?"
In the above speech and in a further speech in June of this year, Duterte also accused religious officials of graft,
accepting bribes and individually reprehensible behaviour among leading clerics.
Today, Duterte effectively put Catholic Church officials on notice in
saying the following
before a rally in his home city of Davao,
"I said I am for [same] sex marriage if that is the trend of the modern times," adding, "If that will add to your happiness, I am for it.

Why impose a morality that is no longer working and almost passed. So I am with you".
Duterte's shift in position on this issue should be viewed in the wider trend of nations whose governments seek to exercise independence vis-a-vis the Catholic Church and other religious bodies.
In Ireland, the relaxation of laws involving Catholic red-lines such as medical abortion, homosexual relations, as well as divorce and marriage laws, was seen as ushering in an age where a country that was once among the poorest in western Europe, experienced a large scale economic boom.
Today, in Saudi Arabia, Muhammad bin Salman is attempting to diminish the power of influential Wahhabi clerics in an effort to realise the economic reforms he is pushing for as part of his Vision 2030 initiative.
Going back further in history, English King Henry VIII's creation of his own Protestant Church of England in order to obtain a divorce, was seen as an implicit step that ushered in the English Renaissance whose leading literary figure was Shakespeare.
What all of this shows is that leaders and governments that wish to embark on wide ranging reforms which are often viewed with scepticism or outright opposition from figures within the traditional religious establishment, often must cross various "moral red lines" drawn by clerics, in order to assert their political authority.
In societies where religious institutions and political institutions work under the guise of a reciprocal relationship, such matters are less pronounced. This is true of most Orthodox countries where national co-equal Patriarchs form the highest authority of a single Orthodox church. This is contrasted with the ecclesiastical organisation of the Catholic Church, where the penultimate authority over all Catholics lies in Rome.
Likewise, in the Islamic Republic of Iran, Shi'a clerics form an important advisory role in government, but these clerics are local Iranian citizens who do not answer to any formal body outside of the country.
The local-versus international model is of course not a guarantee of lessening schisms between religious and political leaders.
The Saudi model while internal, is essentially a parallel system between local Wahhabi clerics and the local monarchy. While typically, the Saudi monarchy and Wahhabi clerics have acted in ways which are mutually acceptable to one another, in the case of Crown Prince Muhammad bin Salman, a clear clash of interests is taking place and like contemporary Irish leaders and Duterte today, Salman is promising to enact "moderate Islam" in order to weaken the power of clerics over Saudi politics, thus threatening to break a centuries old alliance.
President Duterte is therefore following a long trend of asserting personal secular authority by offering concessions to groups whose goals are opposed by a powerful religious institution which is at odds with the political leader in question.
In this sense, Duterte has taken a page out of the books of many successful leaders who want their country to regain independence from antagonistic clerical bodies. Hence, there is nothing revelatory about Duterte's statement, it is essentially an attempt to assert his authority in a way that if seen through at a legislative level, might make the Catholic Church regret opposing Duterte's anti-drug campaign.
In short, because the Catholic Church crossed Duterte's red line, he is now going to cross a major red line of the Catholic Church. By saying that such a move is within the thinking of "modern" trends, it is clear that Duterte sees his overall platform as that which is best suited for a brighter future for Philippines, while that of the Catholic Church is something which represents a past which Duterte is rapidly changing.