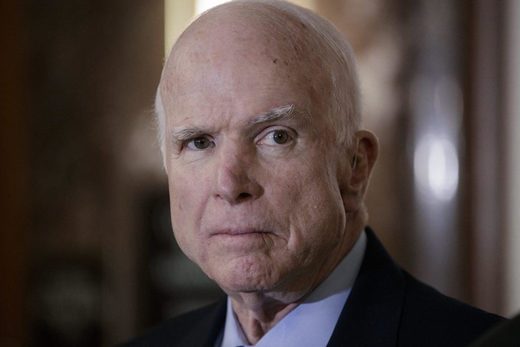 Sen. John McCain is returning home to Arizona after being hospitalized for side effects because of his cancer treatment and will miss the Republican's tax bill vote this week, according to a report.
The 81-year-old senator, who was admitted to the Walter Reed Medical Center in Maryland on Wednesday, was returning home from Washington, D.C., on Sunday,
CBS News
reported.
McCain (R-Ariz.) will not attend the GOP's tax bill vote that is expected to take place sometime early this week. The bill has the support of Republican Sens. Bob Corker of Tennessee and Marco Rubio of Florida. Both pols originally opposed the Senate's plan.
Dr. Mark Gilbert, McCain's doctor, released a statement Sunday saying the senator "has responded well to treatment he received at Walter Reed Medical Center for a viral infection and continues to improve."
"An evaluation of his underlying cancer shows he is responding positively to ongoing treatment," Gilbert added.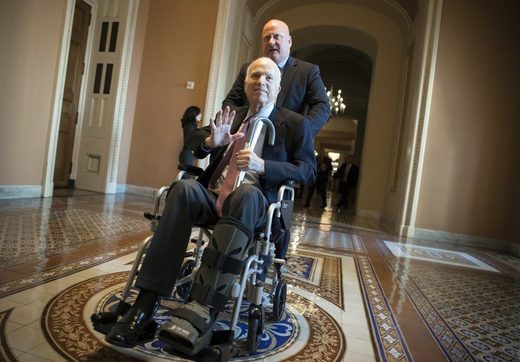 McCain's office said he will undergo physical therapy at the Mayo Clinic in Arizona and expects to return to Washington in January.
"Thank you to everyone for their kind words. My father is doing well and we are all looking forward to spending Christmas together in Arizona," the senator's daughter, Meghan McCain, tweeted Sunday.
McCain underwent surgery in mid-July to remove a blood clot from his left eye after being diagnosed with an aggressive tumor called glioblastoma.
The former Vietnam War veteran had been going through radiation and chemotherapy treatments.