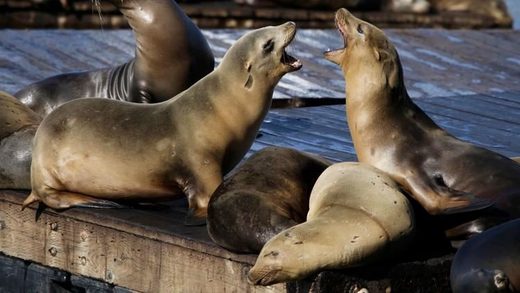 A third attack by a sea mammal in San Francisco in a week has prompted officials to ban swimming in the Aquatic Park Cove on the northern edge of the city's waterfront
.
"The Aquatic Park Cove has been closed to swimming due to reports of an aggressive marine mammal biting swimmers in the area," the San Francisco Maritime National Historical Park tweeted Friday.
The closure is scheduled at least through Monday.
The Aquatic Park Cove is just north of San Francisco's Ghirardelli Square and the cable car terminus of the Powell-Hyde line.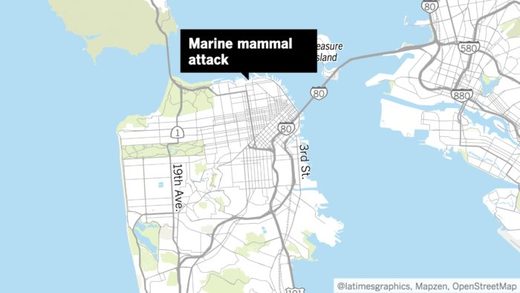 The San Francisco Fire Department said that an adult man suffered trauma injuries from a sea lion's bite Friday morning
. The National Park Service began posting signs that said, "Danger - Aquatic Park Cove closed for swimming due to multiple marine animal bites."
The
San Francisco Chronicle
said the injured swimmer suffered a severe bite about 8 a.m. Friday.
"It hit him right here, close to the family jewels," Bob Roper, 79, pointing to the inside of his upper thigh, told the
Chronicle,
of the injured swimmer, Rick Mulvihill. Both are members of the South End Rowing Club, which bills itself as San Francisco's oldest swimming and rowing club.
"A sea lion came up from underneath and grabbed him on the inside of his thigh," Andrew Burrell, a witness, told
KPIX-TV
.
A day earlier, a swimmer was hospitalized after being bitten on the arm by a sea lion
.
The man had been swimming Thursday afternoon when a sea lion came at him and he felt threatened, he told police. The swimmer began splashing water at the animal to make it move away, San Francisco Police Officer Matthew Reiter said during a news conference.
"When it didn't work, he yelled at it and then the sea lion came up and bit him on the arm," said Reiter, a member of the department's marine unit.
The man, identified by
KTVU-TV
as Christian Einfeldt, 56, an experienced swimmer, told the station that he shouted, "No," at the animal, but it still came at him. "His head slid down my arm. Fortunately he only got one tooth into my arm," Einfeldt told KTVU-TV.
Reiter said the man then used his arm to push the animal away, and it left. People aboard a nearby sailboat rescued the swimmer and called the Coast Guard.
"The boat saved his life," Reiter said. "Had that boat not seen him, this could have been a different story."
Authorities directed the boat to come in, and Reiter applied a tourniquet in an attempt to stop heavy bleeding. The swimmer was taken to a hospital "with a serious extremity injury," the San Francisco Fire Department said in a tweet
.
Reiter said an attack like this is "not common at all."
"I've only been part of the unit for two years now, and I haven't had a single sea lion or wildlife attack like this," Reiter said
.
The Chronicle reported that another swimmer was bitten three or four days ago
, but the injury was not serious enough to require medical attention.
California sea lions are "unpredictable and can become aggressive quickly,"
according
to
the National Oceanic and Atmospheric Administration.
"They have sharp teeth and may bite, particularly if cornered, harassed, sick or if protecting their young. Sea lions can be playful, however they can also be territorial and dangerous, especially during the mating seasons," the agency said.
NOAA
advises
swimmers to stay 50 yards away from free-swimming seals and sea lions.