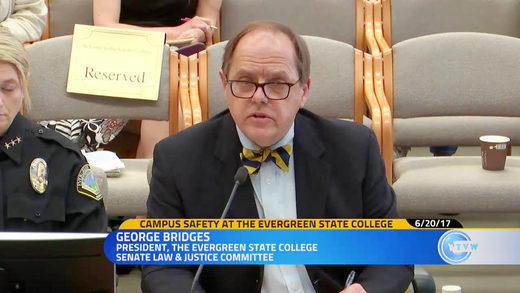 At colleges and universities all over the country, students are protesting in increasingly virulent and sometimes violent ways. They demand safe spaces and trigger warnings, shouting down those with whom they disagree. It has become rote for outsiders to claim that the inmates are running the asylum; that this is analogous to Mao's Red Guard, Germany's brown shirts, the French Revolution's Jacobins; and, when those being attacked are politically "left" themselves, that the Left is eating its own. These stories seem to validate every fantasy the Right ever had about the Left.
As two professors who recently resigned from positions at a college we loved, and who have always been on the progressive-left end of the political spectrum, we can say that, while none of those characterizations is exactly right, there is truth in each of them.
The Evergreen State College is a public liberal arts college in Olympia, Wash., at the southern tip of Puget Sound, surrounded by water and forests. Being public means it has a socioeconomically diverse student body, which brings a variety of life experiences to campus. It is not an elite college made up primarily of rich kids. It is, rather, an experimental college with a curricular structure that, for both better and worse, is like no other. Most students take full-time 16-credit programs, for up to a full academic year. Instead of hopping from organic chemistry to genetics to art history, students are immersed with others whom they come to know well in full-time, interdisciplinary programs that are often team-taught by faculty. This allows professors to know each student individually, and is particularly well-suited to students with high potential and unusual learning styles.
To give but one example of what was possible at Evergreen, in 2015-16, we team-taught a year-long program called Evolution and Ecology Across Latitudes. It included an intensive, 11-week trip through Ecuador, in which we explored the Amazon, the Andes Mountains, and the Galápagos Islands, and also studied the pre-Colombian peoples of Ecuador - the Inca, Cañari, and Huaorani, to name just a few. We started the year with epistemology, taught statistics, and considered the modern history of Latin America as well. Before our trip, we worked with several of our low-income students to help them get grants so that they could study abroad with us. We were a diverse group in nearly every way.
We were among Evergreen's most popular faculty, and year in, year out, our students wrote stellar evaluations of us. Our programs were always full, even in a time of falling enrollments. Yet, we work at Evergreen no more.
What happened to this brilliant, flawed experiment? There are too many subplots to recount, but here is one thread that, we hope, others can use to spot insurgencies on their own campuses.
In 2015, Evergreen hired a new president. Trained as a sociologist, George Bridges did two things upon arrival. First, he hired an old friend to talk one-on-one to members of our community - faculty, staff, and students. We talked about our values and our visions for the college. But the benefit of hindsight suggests that he was looking for something else.
He was mapping us, assessing our differences, our blind spots, and the social tensions that ran beneath the surface.
Second, Bridges fired the provost, Michael Zimmerman. The provost, usually synonymous with the vice president for academics, is the chief academic officer at an institution of higher education. Zimmerman would have disapproved of what Bridges had in mind and would have had some power to stop it. But he was replaced by a timid (though well-liked) insider who became a pawn due to his compromised interim status and his desire not to make waves.
Having mapped the faculty and fired the provost, Bridges began reworking the college in earnest. Surprise announcements became the norm as opportunities for discussion dwindled.
The president took aim at what made Evergreen unique, such as full-time programs. He fattened the administration, creating expensive vice president positions at an unprecedented rate, while budgets tightened elsewhere due to drops in student enrollment and disappearing state dollars. He went after Evergreen's unparalleled faculty autonomy, which was essential to the unique teaching done by the best professors.
All of this should have been alarming to a faculty in which professors have traditionally viewed administrative interference in academic matters with great suspicion. But
Bridges was strategic and forged an alliance with factions known to be obsessed with race. He draped the "equity" banner around everything he did.
Advocating that Evergreen embrace itself as a "College of Social Justice," he argued that faculty autonomy unjustly puts the focus on teachers rather than students, and that the new VP for Equity and Inclusion would help us serve our underserved populations. But no discussion was allowed of students who did not meet the narrow criteria of being "underserved." Because of the wrapping, concerns about policy changes were dismissed as "anti-equity." What was in the nicely wrapped box turned out to be something else entirely.
✦✦✦
When protesters interrupted the fall 2016 convocation, claiming that "Evergreen cashes diversity checks but doesn't care about blacks," Bridges did not let the self-described radicals take over. He might as well have, though, for the next day he apologized for not doing so. "I regret having made this decision," he wrote, making it clear that, upon reflection, he felt he should have let the protesters dominate and derail the proceedings.
Any parent, or indeed, anyone who has ever mentored someone will recognize that the president's apology was guaranteed, if not calculated, to embolden the protesters. Put aside for the moment that the grievances being aired - Evergreen is a hotbed of racism! - amount to empty assertions.
We have heard no stories that hold up under scrutiny of actual institutional racism at the school. Those who assert that racism is ubiquitous at the college cannot point to it.
Even so, assume for the moment that Evergreen did have racism running rampant. Even under those conditions, would apologizing to students for asking them to respect the college and its invited speakers be the right move? Of course not.
What happened next was predictable. Protests became more frequent and intrusive. Protesters showed up at the swearing-in ceremony of the new campus police chief, Stacy Brown, and shut it down. Brown, an officer with impeccable credentials and a good heart, who is herself also an Evergreen graduate, was thus denied the honor she deserved. One faculty member added insult to injury by writing to her to say that police are not wanted on campus. Soon thereafter, protesters showed up at another ceremony, the dedication of a campus building to the last president of Evergreen, Les Purce. Purce happens to be black. Protesters grabbed the microphone and read an epithet-rich announcement claiming that the school is "unsafe for marginalized students." The current president stood in the background, silent and limp.
Meanwhile, the "Equity Council" that Bridges had appointed and empowered shifted into high gear. It produced a document laden with proposals that tear at the foundations of a liberal arts college
. It recommended, for example, using "diversity and equity in the criteria for prioritizing faculty hires." As is clear from the minutes of the council's meetings, this goes well beyond affirmative action, which is itself illegal in the state of Washington. Taken to its logical conclusion, this policy would mean hiring no more artists, or chemists, or writing faculty, or any faculty, really, unless their research or training could be defended on the grounds of "equity." That would spell the end of the liberal arts college.
In Nov. 2016, the Equity Council held the "canoe meeting." Remarkably, as with so much of the history we are laying out here, this meeting was captured, and the whole episode is available for viewing online. It has to be seen to be believed. Ostensibly, the meeting was called to discuss the adoption of a Strategic Equity Plan.
But the contents of the 38-page plan were not discussed. Instead, there was a celebration, with much hand-wringing and some tears, of just two pages of the plan devoted to its goals. These were nothing more than a string of platitudes about helping historically disadvantaged people in order to put all graduates on an equal footing.
There was no debate or discussion about how this incredible feat was to be accomplished. There was no time given to objections. After all, who could possibly object? The audience was told that there was a binary choice between being allies of the plan or becoming enemies, and that regardless of anyone's opinion, "we're going to do it."
And then came the canoe. First, senior administrators were called by name, invited to walk down to the stage, and to step into a large and imaginary canoe. Then, everyone in the room was invited to come aboard, en masse. Finally, everyone walked in a line, as if in a canoe, out of the building together, on a fantastical voyage toward campus equity. An Indian drum beat and the recorded sound of crashing surf were in the background.
Afterward, Evergreen's email system echoed to the virtuous cry of "I'm in the canoe!" Bret, who had refused to climb aboard, wrote and circulated his dissent, suggesting that what was happening at the college amounted to a campaign of intimidation. Dissent was impossible. He added that he did not believe the plan would benefit students of color, now or in the future. The email responses were disheartening. One colleague wrote that "white people ... cannot dictate the terms of this conversation." Another emailed that "there are multiple versions of 'truth' that exist at once." Still another wrote: "If our students are telling us ... that they are experiencing a hostile environment, we must take our students at their word."
That is the sound of inquiry and due process dying.
At the beginning of this year, true believers in faux-equity intensified their campaign. Evergreen was, remarkably, compared to Little Rock in 1957. At faculty meetings, Bret was publicly denounced as a racist for repeatedly and fruitlessly asking that the plan be discussed thoroughly. Heather was on sabbatical, engaging far less with the goings-on on campus.
In April, the event that nominally brought Evergreen to national attention arrived. Historically on campus, a day in April has been chosen as a "Day of Absence," on which some people of color chose to absent themselves from campus to demonstrate their important roles at the college. This year, the organizers decided that the process should be reversed, and white people were "asked" to leave the campus for the day. When Bret respectfully challenged the invitation to absent himself over email, the blowback from faculty and staff was telling. One wrote, "I love imagining students, staff and colleagues of color having the campus to themselves to do their work." Another commented, "By switching the Day of Absence programming, we are physically moving our bodies so that people of color can be centered for ONE DAY on campus." Yet another wrote: "I feel strongly about honoring the call for white-identified people to absent themselves from campus." The interim provost had already sent an email saying "This expanded programming and call for even broader participation in both Day of Presence and Day of Absence also mean faculty will need to make adjustments to teaching and associated classroom scheduling." Many faculty committed long in advance to require students to participate.
If this is an ask, we don't want to see a tell.
✦✦✦
Weeks later, on the morning of May 23, an unruly group of students disrupted Bret's class, yelled and chanted at him, barred the police from entering the scene, and then went to hold court with the college administration. Many of the protesters did not even know what they had been asked to come protest. Students acted badly, and then stupidly, taking video and posting it for the whole world to see.
But it was not the students who were the driving force behind this disruption. They were, rather, empowered and encouraged by bad decisions by the administration, and by the faux-equity cabal, represented by a minority of faculty and staff.
These faculty members and their accomplices in the administration are primarily at fault. They are the adults. At an institution of higher education, it is the faculty's job to teach, not to preach; to educate, not indoctrinate. Some of the students who became protesters will be paying off their loans for years, and for what? They were let down by an institution that imposed and nurtured grievance and propaganda rather than educating and conferring knowledge. Evergreen handed them temporary power, an intoxicating thing, instead of establishing boundaries and legitimately empowering them with insight and wisdom.
Later that afternoon, hundreds of people, mostly students, held a forum in a fourth floor room. The entry, a long hallway, was entirely controlled by protesters who had been emboldened by the successes of their disruptions earlier in the day. The college administration had promised that it would "train" faculty, and the campus police chief had been ordered to attend the forum unarmed, an important symbolic victory for a movement that advocates an end to police presence on campus with the acronym ACAB (All Cops Are Bastards). Bret attended, as did many of his students. Two of his students, neither of them white, attempted to defend him to the angry crowd. They were shouted down. Not following the faux-equity party line meant that you would be informed that you were wrong, that you were a traitor, and that you needed to change.
The meeting was decidedly threatening and unsafe. While it was going on, some of Bret's students texted him from other points in the room to tell him that protesters were hiding mace, and discussing not letting him leave. He texted Heather, in case he found himself a hostage: "I am told I will not be allowed to leave." "Not sure what to do."
At that moment, Heather was holding our two sons close to her at home. By coincidence, it was also the moment when a giant maple in our backyard cracked in half, and fell, crashing into another tree and landing suspended, where it would hang for months. The silence that followed was deafening. It seemed that our world was shifting. The protesters might detain Bret, the police chief had been disarmed, and nobody with authority was stepping up.
These protests at Evergreen were not like protests many readers will remember from their own college days. Nor were they like the ones we had participated in ourselves. Both of us protested as college students before the first Gulf War, and again after the bailouts that followed the 2008 financial collapse with the Occupy movement. It was heady stuff, but it never approached violence. And, agree with us or not, we were objecting to policy, not claims of bias that are immune to scrutiny. This was different.
✦✦✦
The protesters did let Bret leave, but they assigned "handlers" to him and his students. And although Bret was able to have a productive, if tense, dialogue with protesters in small groups, the leaders inevitably intervened to stop such off-script activity.
By the next day, any gains were lost. Protesters stormed the last faculty meeting of the year, where newly emeritus faculty members were being lauded. They took over the meeting, stole a celebratory retirement cake, and said things like "Didn't you educate us on how to do shit like this?"
The radicals blockaded the library, trapping employees and students inside, frightening several. One faculty member who had participated with the students in shutting down the faculty meeting held court outside the library, telling two faculty colleagues that "you are now those motherfuckers that we're pushing against." She told them to "go inside and listen to the students ... or take your ass home ... Two options: Go inside, go home."
The protesters subjugated and humiliated everyone who did not fall into line
. When they ordered the college president to stop gesticulating with his hands, on account of the presumably aggressive nature of his hand gestures, he promptly did so. When they insisted that he have an escort to use the bathroom, he acquiesced. They hurled obscenities and insults at him and others.
That evening, the same faculty member who had been issuing peremptory commands outside the library wrote to the campus community to say how proud she was of the protesters, and to reinforce an earlier thought from one of the radicals. "They are doing exactly what we've taught them today," she wrote. What do you suppose the response to this email was? Horror, shock, quiet distaste? In some circles, yes, but the only people who responded publicly wrote to thank her.
✦✦✦
On Thursday of that week, May 25, Bret and his students held class off campus, for their safety. Some of his students had been followed, harassed, doxxed. A day earlier, protesters had scoured the campus looking in cars for "an individual" whom Brown, the police chief, believed to be Bret. On Thursday, while biking past campus to get to town, Bret watched people recognize him and dive for their phones. Uncertain whether he was being paranoid, he diverted to the campus police station. Brown told him that he needed to get off campus immediately, and off his bike, too, indefinitely. He was too easy a target on his bike, and
the police couldn't protect him, as they had been ordered to stand down
. I
n practice, that meant the police were locked in the police station.
At the same moment, the interim provost sent an email to all staff and faculty claiming he had not felt threatened on campus that week, but that if others had, they should find time to "come talk to me or an academic dean in person." Heather wrote back to the list, suggesting that the administration was obscuring the truth, and that there was a public safety problem on campus. On social media, the same faculty member who had celebrated the radicals' behavior responded by suggesting that "some white women come collect Heather Heying's racist ass."
Later that day, a sign on the locked door of the police station read, "Police Department is Closed. Call 911 in case of an Emergency." We went with Bret's class to the Capitol, where we spoke with the governor's advisers on higher education and civil rights. We told them that the campus had descended into a state of anarchy, and that we needed help. Help never arrived.
As one faculty emeritus wrote during the chaos, "What is screamingly strange about the charges of racism ... is that never are we given specific examples." Nobody denies that racism exists. But our school was being likened to the battlegrounds of the civil rights movement, despite a failure to produce any examples.
When one wondered why, another clause in the activist script became apparent: Asking for evidence of racism is itself evidence of racism.
On May 26, Friday morning, Fox News called. It was Tucker Carlson's producer. The show was going to run a segment on Evergreen that night. Did Bret want to be part of it? No, he didn't want to. But he felt he needed to. Fox was, at that point, the only member of the national news media that had shown up. YouTube was on fire with videos that protesters had posted, but most journalists were staying away, presumably because the story didn't fit comfortable, mainstream narratives.
Two notable things happened after Bret went on Fox. One was that a substantial minority of our colleagues at Evergreen called for a "disciplinary investigation" against him. Why? Apparently, people on the Left aren't allowed to talk to those on the Right. It is against the rules.
Prohibitions against talking to "the other side" widens the intellectual fissure opening up in our society. It creates the very silos we are warned against. By speaking to others, Bret was breaking rank, and so treated like a deserter, or traitor. One thing we know is that when you're being told by your antagonists who you're not supposed to talk to, it's probably a good indicator of who you should be talking to.
The other thing that happened after Bret went on Fox was that well over 1,000 viewers wrote to him. A couple of emails came from white nationalists, people perhaps similar to the New Jersey man who later phoned in a threat to the college, which shut the campus down for two days. Another email was a nasty piece of anti-Semitic hatred. But the overwhelming majority were supportive and eloquent. The writers were from across all known fault lines - socioeconomic class, race, national origin, location on the political spectrum. There were letters from First Nations people, high school students and university faculty, Evergreen students and alums, a man building a school in Uganda. And the thing that unites them is their call to stand strong. They say: Do not back down. And: At this moment, I am so glad to have respect for someone with whom I might politically disagree.
Doesn't that sound like an antidote to the polarization that has gripped the body politic? An ability to reach out across prejudice and talk to people? To respect those with whom we do not share identical core beliefs?
Brown, the police chief, resigned in August, telling us that she had been given all of the responsibility, but none of the authority, to keep people safe on campus. Zimmerman, the ousted provost, testified in a congressional hearing to both the value of a liberal arts education, and to the madness occurring on campuses.
We were told, during mediation with the college at the very end of summer, that the college was quite pleased with the direction it was going, and that there would be no veering from the course that we continue to regard as disastrous.
We suggested that we could help change Evergreen's reputation as a laughingstock to that of a beacon of hope, of viewpoint diversity and actual civil rights, in an ever bleaker higher education landscape. The college wanted no part of it.
We asked for leave, and were denied it. The college made it clear that they wanted us gone permanently. And so, in shock, feeling betrayed, heartbroken and livid, we left. We settled with the college for half a million dollars - about two years' joint salary after our legal fees - a small price for two tenured professorships. Grief takes many forms, and we feel it, but we also feel that we were paid to leave a burning building. Unfortunately, we can do nothing for our many friends - students, staff, and faculty - still stuck on the inside.
The story goes on and on and on. There are so many threads and subplots that it feels dishonest to tell any version without all of them, but we must.
✦✦✦
Hateful white nationalists comprise a tiny but exceedingly loud minority of people on the Right. The analogous group on the Left is the virulent social justice crowd. Those who would have us destroy Martin Luther King's dream comprise a small but disproportionately loud minority of people on the Left. Also, we would argue that "Right" and "Left" make little sense in either of these contexts. Both fringe groups, extremists wherever they are found, are more accurately described as authoritarian.
We come from the Left, and our values and worldview have not changed. But our understanding of the landscape has, as has our understanding of who is most likely to be interested in pursuing democratic goals through democratic means.
A democratic system needs intelligent dissent, which means that it must create and protect the conditions in which people can learn how to think critically, and how to critique ideas and proposals. Those are longstanding values on the Left, but today, they are hanging by a thread.
At Evergreen, a small fraction of students was the face of the protests, some even going so far as to patrol campus with baseball bats, threatening people, and vandalizing property. But the vast majority of students were not part of the protests. Some were yelled at, insulted, assaulted, even battered. Some left the school. Some graduated. Some are keeping their heads down, angry and scared, until they, too, graduate, while they wonder why their experiences are apparently of no interest to the college administration.
What of Martin Luther King's dream? Why are we being advised by the social justice crowd that we shall not focus on the content of our character, but instead must focus primarily on the color of our skin (and our gender identification, sexual orientation, and various other signifiers of intersectional oppression)? This would be MLK's nightmare. Why is it being handed a megaphone?
We are honored to be part of the nascent Coalition for Free Speech and Civil Rights, spearheaded by 1960s-era civil rights activist Bob Woodson. At a meeting this fall in Washington, Pastor Darryl Webster, who runs an organization that helps men integrate with family and community, made clear an important distinction in these discussions. There are those who would have us concentrate on historical and current inequities that provide people different leverage in life; and there are those who argue, no matter what hand you were dealt, to look forward, and make the most of your cards. The distinction is an important one as the conversation moves forward.
Left and Right historically disagree on the extent of current inequities in the system, and on the wisdom of solution making.
Those on the Left tend to focus on the inequities in the system; those on the Right tend to argue for personal responsibility. The Left tends to see structural unfairness, and is inclined to intervene. The Right tends to see a landscape of opportunity, and fears the unintended consequences of new initiatives. Both positions have merit and, despite the frequent tenor of conversations between factions, they are not mutually exclusive.
Wisdom is likely to emerge from the tension between these worldviews, uniting good people around the value of a fair system that fosters self-reliance as it distributes opportunity as broadly as possible.
✦✦✦
So, is this present uprising Maoist? Are the inmates running the asylum? Has the extreme Left gone off the deep end? A bit, a bit. But with apologies to J.R.R. Tolkien, we offer a different analogy: One script to rule them all, One script to find them, One script to bring them all and in the darkness bind them.
For today's social justice warriors, only one narrative shall be allowed. It is unquestionable. Those who dissent are guilty. The "equity and inclusion" movement, cloaked in words that sound benevolent and honorable, is a bludgeon. To the outside world, Evergreen's implosion looked like a student-motivated response to conditions on the inside. But the terrible conditions don't really exist, and the real power dynamics, between administrators and faculty, were obscured by a narrative constructed to make resistance impossible.
The script showed up at our public, liberal arts college, and we, the evolutionary biologists, are now gone. It showed up at Duke Divinity School, and Paul Griffiths, a Catholic theologian, has resigned after being vilified for questioning training in racial equity. His words are to the point: "Events of this sort are definitively anti-intellectual. (Re)trainings of intellectuals by bureaucrats and apparatchiks have a long and ignoble history; I hope you'll keep that history in mind as you think about this instance."