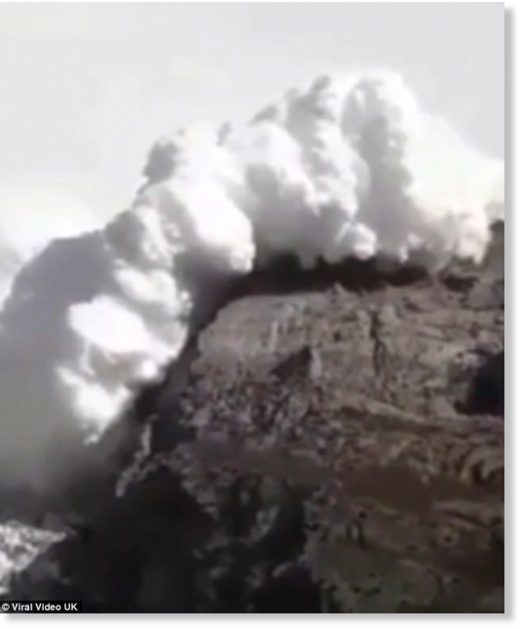 This stunning footage shows how a group of mountain trekkers became embroiled in a potentially lethal avalanche.
A group of hikers were scaling a mountainous region in northern Pakistan when they witnessed the stunning natural occurrence.
The trekkers stayed on a point known as Ulter Peak, in the Hunza valley, and decided to film the event which happened on November 23.
The stunning footage captures the snow tumbling down a rocky mountain face towards the hikers, who are filming it from the safety of higher ground.
The white, snowy cloud soon engulfs the hikers, who continue to film the strange occurrence.
Snow continues to hurtle down the rock face and then eventually the hikers are engulfed by snow plume which has been stirred up during its descent.
One of the hikers who filmed the barrage of snow tumbling down the slope said: 'Weather in winters are very unpredictable because of mountains... while we are trekking on the peak we witnessed this avalanche coming right at us.
'One local friend "Moiz Ali" was with me he told me this avalanche is not very dangerous so we can witnessed it very closely.
'Locals said that they often witnessed these avalanches from their town but its very rare that this happened while we were trekking on peak.'