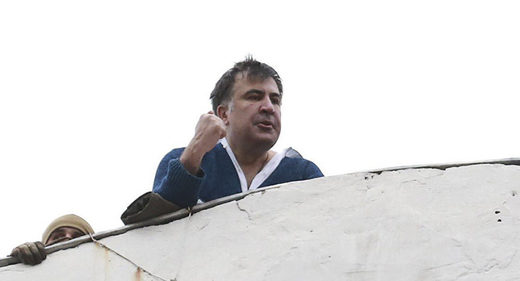 Mikheil Saakashvili, Georgia's ex-president and former Ukrainian regional governor, has been arrested in Kiev. The embattled politician was initially detained Tuesday but his supporters blocked the police minivan he was in and set him free. On Friday, Ukrainian Police finally took the former friend of Ukraine's incumbent president into custody.
Mikheil
Saakashvili
has gone on a hunger strike after he was taken into Ukrainian custody, his lawyer said after meeting him at a detention center on Saturday.
"He has declared the start of a hunger strike," Ruslan Chernolutskiy told the crowd outside the detention facility where the politician is being held.
The lawyer said his defendant would object to force-feeding and would continue striking if a court decides to keep him behind bars for 60 days.
"He says he has nothing to do with this false case and is asking Ukrainians not to believe the information and propaganda spread as part of this persecution," the lawyer added.
A pre-trail hearing this weekend is likely to set bail conditions for the
recaptured
opposition politician, a spokeswoman for the prosecution said Saturday. Nevertheless, house arrest for the ex-Georgian president is not unlikely.
"Prosecutors will ask the court to put the detained Saakashvili under house arrest and have him wear an electronic bracelet as a preventative measure," spokeswoman Larisa Sargan said on Facebook.
Meanwhile, a mob outside the facility where the politician is being held could be seen shouting "Ukraine arise!" while others were waving national flags. Numerous police forces are guarding the detention center. According to local media reports, the Ukrainian authorities have ordered to tighten the security of the area near the jail where Saakashvili is currently is being held to prevent any possible violent outcomes.
On Tuesday, Saakashvili's apartment was searched over suspicions that his recent anti-government protests were allegedly funded by ex-Ukrainian President Viktor Yanukovych. During the search, Saakashvili
climbed onto the roof
of the 8-story building and threatened to jump down but was detained but the crowd blocked a police vehicle with Saakashvili inside, broke the door and set the politician free.
Last Sunday, over 1,500 people reportedly held a rally in central Kiev, organized by the ex-Georgian leader, demanding the impeachment of the Ukrainian President Petro Poroshenko.
Mikheil Saakashvili who has lost both his Georgian and Ukrainian citizenship, has been accused of lying on his nationality application in Ukraine and crossing into the country
illegally
.