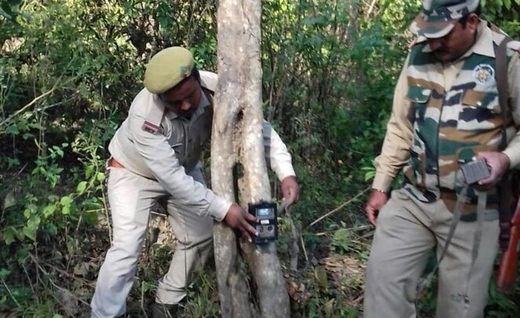 Had Hema Devi paid heed to warnings of forest officials in Uttarakhand's Tanakpur, not to venture into the jungle to collect fodder and firewood following reports that a suspected man-eater was on the prowl in the area, she would been alive today.
Hema Devi, a forest villager, was mauled to death by a tiger on Wednesday afternoon inside the forest where she had gone to collect fodder,
allegedly disregarding the warnings.
Despite reports of the presence of the big cat in the area, women from surrounding villages entered the forest twice every day to collect firewood and fodder.
On Wednesday morning officials asked the women not venture into the forest, warning them about the presence of the suspected man-eater.
In a video provided by the forest department, two officials--Nirmal Khulbe and Kailash Bisht-- are heard asking the women not to venture into the forest.
Hema Devi--who was mauled to death by the tiger hours later-- is heard brushing aside the warning, saying: "We are dependent on the forest for firewood and fodder, how can we stop venturing into the forest."
Tanakpur in Champawat district is closed to the India-Nepal border and surrounded by the dense Boom and Sharda ranges of a reserve forest. Women from surrounding villages enter the forest twice a day and
man-animal conflicts are common
.
Since February this year,
four people have been killed by the suspected man-eater that is still at large
, forest officials said.
"We have been warning the villagers of the nearby villages since February, not go into the forest due to presence of the big cat, but they don't take it seriously," said Rajesh Srivastva, sub divisional forest officer at Sharda forest range.
Villagers say they are aware of the risks of venturing into the forest but have no options as their livelihood depends on the forest.
"The forest department must kill or catch the big cat," said Radha Devi, a resident of Naya Goth village.
Meanwhile, forest officials have installed camera traps at 10 spots and two cages to capture the big cat.
Forest officials who on Thursday, conducted a search to spot pug marks of the big cat, said pug marks they recorded earlier confirmed the present of the animal in the area.