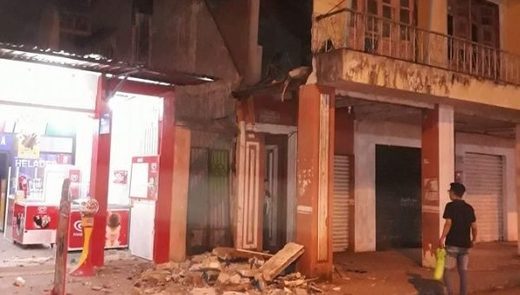 Emergency service cameras caught the moment when the earthquakes hit the Ecuadorean coastal towns.
Two
earthquakes shook the coastal
area of Ecuador on Friday, leaving several structures damaged.
A first 6.2 magnitude earthquake hit the city of Guayaquil at 8:40 a.m. local time and was felt strongly in other provinces.
It was recorded to have a depth of 47.11 kilometers.
The earthquake occurred 20 minutes before a simulation exercise was planned in that city
to prepare citizens on how to deal with these types of emergencies.
On the same day, at 11:23 p.m. local time,
a 5.8 magnitude earthquake hit the city of Balao in the same province, Guayas.
The quake was closer to the surface, with 8.4 km of depth. No deaths have been reported.
In the city of Pasaje, located in the province of El Oro, damages to homes were reported. In one case, a wall fell off of a house, according to local media.
Authorities said the earthquake was felt in highland cities like Cuenca and Quito.
President Lenin Moreno said through his Twitter account that "the first reports recorded some structural damage, but fortunately no misfortune to regret," and called for Ecuadoreans to remain calm.
Meanwhile, the Oceanographic Institute of the Ecuadorian Navy said the earthquake didn't reach the necessary conditions to become a tsunami.
Authorities in Guayaquil are assessing the damages and asked citizens to remain calm given the possibility of new aftershocks.