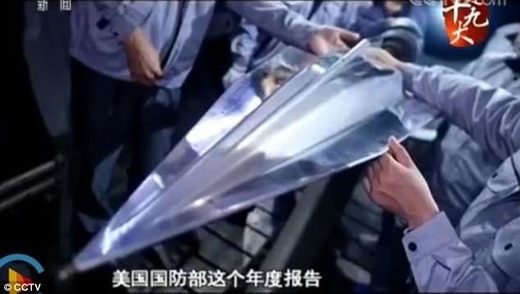 Chinese
state media has revealed the country's first ever images of a model of its hypersonic glide vehicle, a nuclear weapons expert has claimed.
The secretive missile delivery craft, known as the DF-ZF, could travel at up to ten times the speed of sound (7,680 mph/12,360 kph) according to some estimates.
Its speed will ensure the country's nuclear threat can reliably breach the United States' ballistic missile defence shield, which fires incoming strikes out of the air.
The model was briefly shown during a State-run TV special covering the country's JF-12 hypersonic wind tunnel.
The innovative setup is the largest of its kind in the world and is capable of testing missiles and aircraft up to 6,900mph (11,100kph).
The news follows a US Navy announcement yesterday that it had successfully test fired a hypersonic missile that could hit 'anywhere in the world' within an hour.
The
TV clip
aired on October 8 via State broadcaster China Central Television (CCTV), and shows an arrowhead-shaped model is shown inside the Beijing-based wind tunnel.
Its design looks like official Chinese mock-ups of the DF-ZF, which was codenamed the WU-14 by the Pentagon before its official name was released by Beijing.
Chinese officials have confirmed several test flights of hypersonic glide vehicles since 2013, but have kept the details top secret.
This is likely the first time China has shown any test models linked to the project.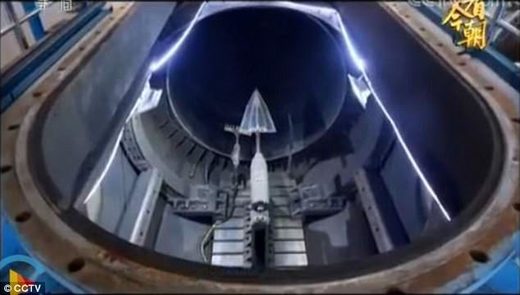 The broadcast also showed a weapon with a shape similar to the last stage of a ballistic missile, and computer generated images of a new triangular-framed glider.
Raymond Wang, an expert in stopping the international spread of nuclear weapons, from the Middlebury Institute of International Studies at Monterey, California, was one of the first to spot the DF-ZF model.
Writing on
Twitter
, he noted the programme's narrator didn't specifically refer to hypersonic boost-glide vehicles (HBGVs) or the DF-ZF at any point.
'China just showed its hypersonic-BGV in a vid on 08 Oct. Probably a test design model, but AFAIK [as far as I know] this is first pics of an actual object,' he wrote.
'Vid is about JF-12 hypersonic testing tunnel. Narrator never explicitly says its HBGV. Resembles mock-ups of WU-14.
'Not an expert, cannot tell if useful info. BUT WATCHING PROPAGANDA IS IMPORTANT.'
Mr Wang said the wind tunnel shown in the clip has sharper angles than any known models of the Chinese design.
China reveals first images of new hypersonic strike aircraftLoaded: 0%Progress: 0%0:00PreviousPlaySkipMuteCurrent Time0:00/Duration Time1:00FullscreenNeed Text
Experts suggest the DF-ZF has been in development since at least 2013.
The Chinese Ministry of National Defense first revealed it has successful tested a hypersonic vehicle for 'scientific' purposes in January 2014.
Officials have carried out at least five more successful launches since then, with the most recent coming in April 2016.
China has never officially disclosed the purpose of the innovative aircraft, but a range of tactical applications are possible.
By definition, hypersonic vehicles can travel at least five times the speed of sound.
The new craft could help China ensure its nuclear weapons can breach US missile defence systems, experts claim.
Hypersonic vehicles would travel so rapidly and unpredictably they could provide an almost-immediate threat to nations across the globe.
The craft would travel at such speeds that the gap between identifying a threat and launching an attack on it would drop from hours to minutes, even at long distances.
Yesterday, the US Navy announced it had successfully test fired a hypersonic missile design that could hit 'anywhere in the world'.
The technology could deliver a conventional warhead anywhere on Earth in as little as an hour, reports suggest.
The Prompt Global Strike hypersonic weapon system has been in development since 2001 and is designed to give the US the ability to quickly strike targets worldwide with almost no notice.