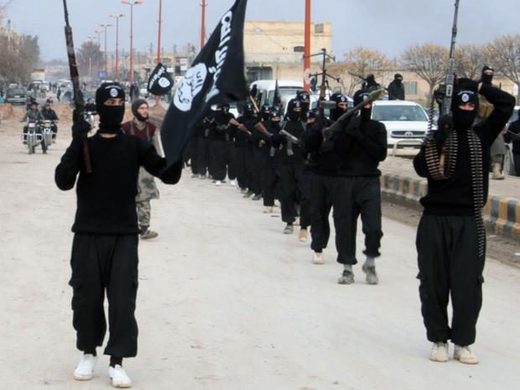 Government plans to give jihadis council houses and other support as part of de-radicalisation programmes have been welcomed as "overdue" by terror experts.
Right-wing commentators have branded the proposals, codenamed Operation Constrain, as "
beyond sick
" and accused authorities of seeking to bribe extremists.

Comment: It's actually high treason, whichever way you slice it.


But analysts say there is an urgent need to coordinate police, intelligence, mental health and social work for thousands of potential threats who are known to authorities but cannot be jailed.
They include the 20,000 extremists who have appeared on the security services' radars but are not deemed to be a sufficient risk for round-the-clock surveillance - the category that Westminster attacker
Khalid Masood
, Manchester bomber
Salman Abedi
and London Bridge ringleader
Khuram Butt
fell into.

Comment: What a breathtaking piece of doublespeak.


The growing pool will be joined by former ISIS members returning from the group's shrinking territories in Syria and Iraq.
A report released last week said
425 men, women and children have already returned to the UK
and the fate of more than 400 other jihadis who travelled to Isis strongholds remains unclear.
Max Hill, the Independent Reviewer of Terrorism Legislation, has been among those calling for a focus on "reintegration" amid warnings that there will not be sufficient evidence to prosecute all returnees or jail them for significant amounts of time.

Comment: Prosecute??... YOU SAID YOU WERE IN THE MIDDLE EAST KILLING THEM. So what then were you actually bombing these last 3 years??


Thousands of ISIS members have already been killed in air strikes on the group's strongholds, where the UN has warned of civilian deaths in indiscriminate bombing, but the prospect of all British fighters dying is an unlikely one as jihadis disperse from major cities to more disparate territories.

Comment: BS. British security services were actively involved - along with their US and Israeli counterparts - in providing air support and intel to the terrorists.


A Home Office document seen by the
Mail on Sunday
outlines a strategy for known extremists who cannot be jailed to be given support and monitored as part of efforts to prevent further terror attacks.
Operation Constrain, due to be implemented next year, will see targets
moved to the front of council housing waiting lists
if they have no suitable homes,
helped into education, training or employment and referred to the NHS for mental health treatment
.
The scheme will be applied to selected people on MI5's databases, who will be assessed and questioned by security services before a local panel decides on what intervention to launch.

Comment: In other words, the security services are overseeing this program to reintegrate their assets from 'the database', aka al-Qaeda.


Police and officers from the Prevent counter-extremism programme will continue contact with the subjects and update risk assessments.
Raffaello Pantucci, director of International Security Studies at the Royal United Services Institute (RUSI), called Operation Constrain a "fantastic idea".
"This is the approach that should be taken for a long time," he told
The Independent
. "We've got a community of people who haven't been categorically dealt with.
"They need to be managed and frankly getting other people involved to see what should be done on a case-by-case basis is what we should be doing."
ISIS has been intensifying its efforts to inspire global terror attacks as its territories dwindle, while al-Qaeda is enjoying a resurgence and officials have warned of a growing threat from the far-right.

Comment: And their solution to that 'problem' is to molly-coddle them.

But that's the heart of the problem right there: the British establishment doesn't see al Qaeda/ISIS as a problem because it's actually a bloody effective tool of population control.


Mr Pantucci warned that jihadi ideas stay ingrained "for decades" and can be reactivated by specific events, but not all followers present the same level of risk.
He said that placing the entire burden for monitoring extremists on security services was not realistic with the huge amount of resources that operations require.
"After you have five attacks it is clear that something is not working," Mr Pantucci said. "People are unpredictable and you've got to take that into account.
"The Government is attempting to try something and they might have to take some flack."

Comment: Terrorists keep massacring innocents, so we're going to try being extra nice to them and see if they stop massacring people, ok? Just bear with us...


The number of extremists to be targeted remains unclear and it is thought that many of the 20,000 do not know they have come on security services' radar.

Comment: They're going to select their favourite agents and patsies based on the reliability of their character defects: avarice, imbecility, fanaticism, etc.


Usama Hasan, a former Salafi fundamentalist who now fights radicalism as a co-founder of the Quilliam Foundation, described the plans as "sensible".
"Obviously the Government has talked about killing as many as possible while they're abroad but we know many have returned already," he told
The Independent.
"This looks like the last safety net. Dozens of terrorists are due for release in the next few years and for those returning, there may not be enough evidence to prove they joined al-Qaeda or Isis.
"There are good lawyers around who will get some of these people off and there are naïve judges as well.

Comment: Yes, naivety undoubtedly plays a part, but don't underestimate the cunning of British officialdom.


Manchester bomber Salman Abedi was among the terrorists known to security services before launching his attack (PA)
"So what we do need is joined up work with Prevent, MI5, mental health and social services."
Dr Hasan, Quilliam's head of Islamic studies, said he hoped that the vast majority of returnees would be prosecuted and jailed, before being put through de-radicalisation programmes in prisons.
But the alarm has long been raised over the role of jails in radicalising inmates or forming terror cells, with a court being told on Tuesday that one of Lee Rigby's killers was converting fellow prisoners to Islam.
Dr Hasan said a lack of support after imprisonment can also leave jihadis to regress into crime or extremism, with worsening grievances driving a "vicious cycle" of radicalisation.
While praising the Government's Prevent scheme, he warned that some of those who went through the programme successfully have also left without jobs or homes and later become tempted by Isis.
"If we're going to reintegrate people in society, we're going to have to do it properly," he added.
The Home Office would not confirm details of Operation Constrain but said a review of national counter-terror strategy was ongoing.
A spokesperson added: "The Government is committed to doing everything possible to protect our communities from the threat of terrorism.
"To respond to this threat, it is vital that we use all the means at our collective disposal to divert people away from terrorist-related activity and we are exploring the best ways of doing this with our partners."