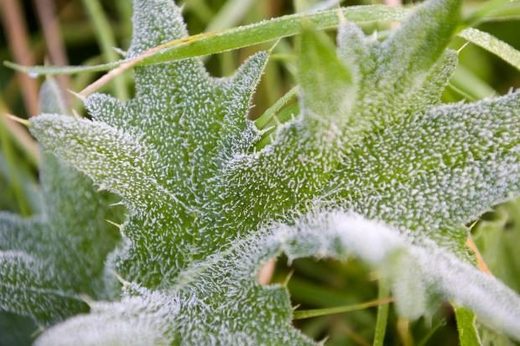 The UK woke up to the first widespread frost of the season as temperatures in many parts of the country dropped below zero.
Temperatures plummeted to -5C (23F) in areas of Scotland and as low as -3C in southern England on Monday morning as a cold snap gripped Britain.
Autumn's first widespread grass frost spread across the country on Sunday night as thermometers broadly plunged to low single figures or below zero.
The coldest temperatures were clocked in Tulloch Bridge, in the
Scottish
Highlands
, which hit -5C
at 4am on Monday.
England's south coast saw temperatures of -3C (26.6F), while in northern England and Northern Ireland they fell to -2C (-28.4C.) Temperatures in London dropped to 1C.
Met Office
forecaster Matthew Box said: "What we have is high pressure centred over parts of the UK, and that's bringing a northerly flow across, in particular, eastern parts of the UK, and it's brought northerly winds and polar maritime air mass across the UK throughout the course of Sunday as well."
He added a combination of cold air, clear skies and high pressure had caused temperatures to drop off.
As Monday progresses, forecasters said the the coldest temperatures would be felt in Scotland at 9C (48.2F) to 10C (50F), while the south it will be a milder 12C (53.6F) to 13C (55.4F)
It will largely be bright and sunny, but some high cloud coming in across from the west which will cause some hazy sunshine in the north of England and Scotland.
By Tuesday, the cold snap will thaw slightly, with maximum temperatures likely to rise one or two degrees.
Some forecasters have warned this winter could the UK's coldest for five years with a "higher-than-normal potential" for temperatures below -10C in the north of the UK.