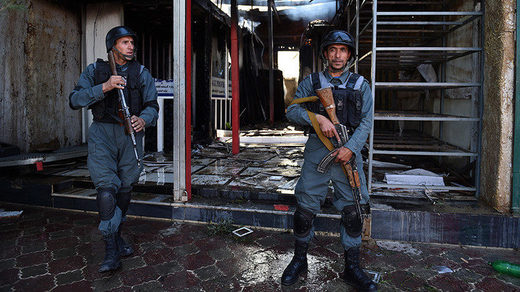 A suicide bombing killed fifteen Afghan Army trainees as they were leaving a military academy on the western outskirts of Kabul, the second suicide bombing in the city within 24 hours.
The blast occurred at around 3.30 pm as the minibus carrying the trainees went through the gates of the Marshal Fahim Military Academy, near Qambar square. There are conflicting reports on whether the attacker approached the bus in a car, or on foot.
"Fifteen soldiers who were there for training were killed and four others were wounded," defence ministry spokesman Dawlat Waziri told Reuters.
NATO's Resolute Support mission responded to the bombing, tweeting that the attack on the "future" of the Afghan military was proof that "the insurgents are desperate and cannot win".
The Marshal Fahim university is home to the Afghan military's officer training academy along with other schools. The cadets killed and wounded leaving the premises on Saturday were from the Daud Khan Military Hospital, TOLO news reported.
This is the second suicide bombing in Kabul in the space of 24 hours.
On Friday evening, a bombing at a Shiite mosque in the Dasht-e-Barchi neighborhood claimed 56 lives. The attack was claimed by local Islamic State (IS, formerly ISIS/ISIL) affiliates, which consider Shiites to be heretics who deserve to die.
Elsewhere that same day, another attack on a Sunni mosque in western Ghor province killed more than 30 worshippers.
Earlier on Saturday, three rockets were fired in Kabul's "Green Zone", two of them hitting the NATO complex which houses US military personnel.
Though no group has immediately claimed responsibility for either attack, both the Taliban and Islamic State are active in the country. On Thursday, Taliban fighters stormed a military base in the southern province of Kandahar, killing at least 43 soldiers.