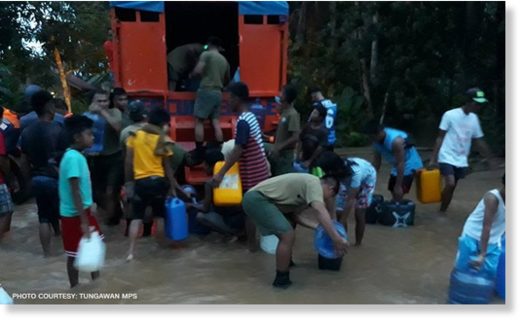 Three people, including two children, died when a flashflood and landslide hit three towns in Zamboanga Sibugay province on Thursday, October 19, the police reported Friday.
One of the three fatalities was identified as Ariel Villaronte, 15, while the other two were only described as a girl and a boy.
The police said Villaronte, a Grade 9 student, drowned after he accidentally fell into a drainage and was swept by strong current
around 5 p.m. Thursday in Sitio Kahayagan, Barangay La Dicha, Malangas, Zamboanga Sibugay.
Members of the Malangas Municipal Police Station retrieved the remains of Villaronte at 8:35 p.m. Thursday.
Zamboanga Peninsula Region has been experiencing heavy rains since Sunday
due to the intertropical convergence zone (ITCZ).
In Imelda town, a five-year-old girl died after she was trapped inside house that was hit by a landslide around 5 p.m. Thursday in La Victoria village.
The police said the girl was at the house of La Victoria village chief Desiderio Donato when the landslide occurred.
"The victim was not able to go out from the house during the incident that resulted to her death," the Imelda town police reported.
In Buug town, a boy drowned when flashflood inundated the villages of Poblacion, Datu Panas and Maganay on Thursday afternoon.
The police said the boy's body was retrieved by rescuers and was brought to a funeral parlor.