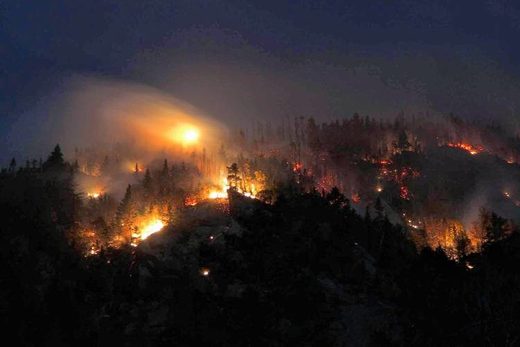 A major forest fire continued to burn Wednesday morning in the White Mountains.
The fire has been burning for more than 24 hours near Lost River Gorge in Woodstock.
The fire was first reported about 6 a.m. Tuesday.
Woodstock's fire chief said the night before, a man said he was driving in the area when he spotted a meteor streaking across the sky.
Officials are not sure if the meteor, which is referred to as a meteorite if it reaches the ground and survives the impact, caused the fire. They said they have found no evidence of a meteorite, but they said it is considered a possible cause.
On Wednesday morning, the fire was burning in a remote area in Kinsman Ridge.
The chief said the fire doubled in size Tuesday night and has now scorched about 50 acres.
Crews were at the scene of the fire through the night to monitor the situation.
The Lost River Gorge was closed Tuesday because crews were using the attraction's parking lot as a staging area.
Gorge officials planned to reopen the attraction as normal on Wednesday.