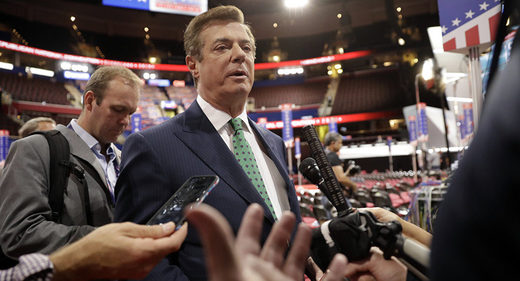 Just five months after President Trump tweeted about the alleged wiretapping of his phones by the last US Administration, a CNN report emerged claiming that the FBI tapped Trump's former campaign chairman Paul Manafort before and after the 2016 presidential elections.
CNN
claimed
that the FBI used secret court orders to wiretap US President Donald Trump's former campaign chairman Paul Manafort before and after the 2016 election.
Some of the intelligence data obtained triggered suspicions that Manafort urged Russia to help
Trump's election campaign
, CNN said in a report, referring to its three sources, with two of them saying that the data are yet to be confirmed.
Last year, the report added, investigators stopped the surveillance on Manafort for lack of evidence, but the process was restarted earlier in 2017 when the FBI obtained a new FISA warrant.
The surveillance became part of the FBI's probe into alleged cooperation between members of the Trump campaign and Russia to affect the results of the 2016 presidential elections in the US.
"It's unclear whether Trump himself was picked up on the surveillance," CNN said, adding that both the White House and a spokesperson for Manafort "declined to comment for this story."
The New York Times
published a report
about the FBI's dramatic raid on Manafort's home, during which agents allegedly tried to find proof, including tax documents and banking records, pertaining to Manafort's reported collaboration with Russian operatives.
The report quoted the two prosecutors working for Special Counsel Robert Mueller as saying that they plan to indict Manafort after the raid.
As for the CNN report, it came after the US President wrote several tweets in March to blame the former Obama administration for allegedly wiretapping Trump Tower during the election campaign.
Obama, for his part, said that White House officials did not order the surveillance of US citizens.
This leak led to a new round of discussions of Trump's alleged connections with Russia. He is accused of trying to discredit his opponent Hillary Clinton with Kremlin help.
Russia has repeatedly denied Washington's claims of its alleged meddling in the 2016 US election. Kremlin spokesman Dmitry Peskov stressed that Russia did not cooperate with President Trump's staff during the election campaign.