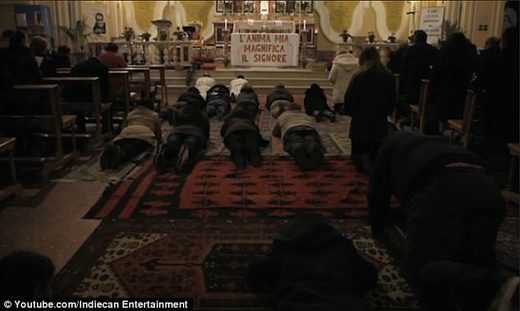 "[There are] six, seven or eight possessed people here at the moment."
Is it cheaper to get your exorcisms in bulk? Is it better? Where would one go to have more than one demon cast out at a time? The answer to the last question and possibly the others can be found in Palermo, Sicily, at the parish of an elderly priest whose fame as the result of a recent documentary has made him the most
in-demand
exorcist in Sicily, especially since he deals in quantity.
"I am talking to you, Satan, Prince of Darkness. I curse you, I chase you out of my life."
The documentary is titled
Libera Nos
(Deliver Us) and the 80-year-old star is Franciscan Father Cataldo Migliazzo, who performs exorcisms on demand as well as every Tuesday at a regularly scheduled exorcism Mass that is
reportedly well-attended by the possessed as well as the possession-curious.
Award-winning director Federica Di Giacomo said in an
interview
in
The Hollywood Reporter
that she became interested in the practice after reading about a call for priests to become exorcists.
"I was interested in the psychology of everyday life. So it sounded to me quite interesting and also quite absurd. Because how can you teach someone how to deal with the devil?"
Good question. As a non-Catholic, she felt qualified to be impartial in her research of the practice that is so steeped in Catholicism but is also a part of many other religions and questioned by many who believe the 'possessed' are actually suffering from some sort of mental or physical illness that should be treated by a trained physician or therapist.
"It was a kind of key metaphor to enter in the contemporary question about illness, about the border between psychic and spiritual illness. And it was also about the obsessive search for a healer."
The highlights of the documentary are Father Migliazzo performing exorcisms on a group of people. As he points out that he feels at least eight people in need of demon removal, a woman begins to groan, a couple of people growl and spit and one man vomits. All are then attended to by other priests who allegedly are also trained exorcists. They hold some of the people down, put crucifixes in their faces and, in one case, throw flour in the face of a woman. That seems to be a new technique.
Read the rest of the article
here
.