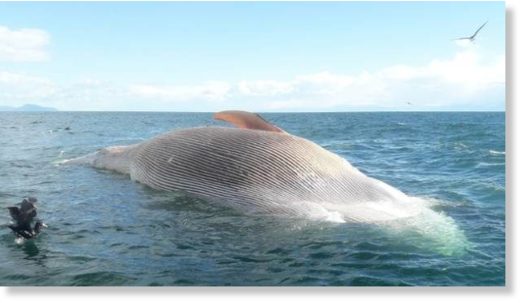 What was initially thought to be the upturned hull of a boat has proved to be a 15-metre long dead whale, floating near d'Urville Island.
Sealord skipper Peter Connolly said he was out fishing when he spotted it off the western side of d'Urville Island north of Nelson.
"It was so bloated it just looked like the hull of a boat upside down... when we got close I realised what it was," Connolly said.
He said at first he thought sharks were feeding on it.
"But it wasn't. It was those big black petrels ... they're like an albatross size bird. They were just feeding on it absolutely profusely."
Connolly said he couldn't see any obvious injuries to suggest the whale had been hit by anything.
"I'm only guessing from my limited knowledge of whales, but I'm picking just looking at the lines on it that it possibly could have been a blue whale. It didn't have teeth so it wasn't a sperm whale."
He estimated the whale was about 15.2 metres long.
"My boat's 8.2 metres long and it was definitely twice the length of my boat."
Connolly said he'd notified the Department of Conservation (DOC) and had posted photos on social media to alert other boat users to be mindful of it if they were near d'Urville Island.
"Just a navigational warning because if you hit it in a small boat in the dark it wouldn't be a very nice experience," he said.
DOC communications spokesperson Simon Bayly said as long as the whale was floating they wouldn't be doing anything, but people should be mindful and report any sightings.
"The harbour masters will be aware of it and there will be calls going out over marine channel 16 about a hazard floating around," Bayly said.
"Once it hits land then we'll look at what our options are."
He said DOC marine mammal scientists in Wellington had given advice on what species the whale was.
"Going by the location and the photos we have so far, it's most likely a blue whale, but possibly a fin or a sei whale."
He said if anyone spotted the whale they should take photos and send to DOC, or post them on social media.
"It will be drifting around and the more that people are putting the message out about where it is and what it's doing, the better."
DOC is also appealing for information about a leopard seal spotted on the Tahunanui back beach on Monday, as well as two pilot whales spotted in Waimea Estuary.
One whale was reported to be dead and DoC were expecting it to wash up so were keen to hear from anyone who had seen them.
As for the leopard seal, it's also missing-in-action after reports it was lounging on the dog beach.
"A ranger went over there [on Monday] to see how it was and it was in the dog exercising area, and it was about two metres long," Bayly said.
But a ranger who went to check on Tuesday morning couldn't find it, so DoC were appealing for information from anyone who may have seen it.
He said if people did come across it they should "leave it alone and keep the dogs away from it".
DOC's advice is for people to keep at least 20 metres away from leopard seals and not disturb them.
"Leopard seals can be aggressive if agitated and while they can appear docile resting on shore, they can lunge powerfully and quickly. They can easily crush a person and their formidable jaws can inflict a severe crushing bite."
Source: Nelson Mail